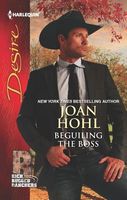 Series:
Rich Rugged Ranchers
(Book 3)
From Secretary to Wife?

Jennifer Dunning's boss has made her an offer too good to refuse. Or is it? Jen knew Marshall Grainger's reputation with women before she took the job. Disillusioned with love, she expected to be immune to the sexy rancher's charms. But nothing could prepare her for the explosive power of their mutual attraction...nor for Marshall's proposal.

But Marshall, too, is cynical about love. And his only reason for marrying is to provide himself with heirs. So despite their fireworks in bed, how can Jen say "yes" to a loveless marriage-especially when it's not loveless for her?
Good book. Jen had left her previous job after getting tired of the way she was treated. Then she ran from home after seeing her parents in compromising positions. She chose to take a job as assistant to Marshall Grainger. She was disgusted with the actions of people who claimed to be in love, so she was sure she would have no trouble with Marshall. He too did not believe in love. All he could see was people acting foolishly and would rather base a relationship on compatibility. Neither expected the instant attraction that they felt. I really liked both Jen and Marshall. Both were completely honest about their feelings at the beginning. Marshall realized that he really wanted a couple kids to leave his empire to and also to have someone to share his life with. His fascination with Jen worried him a little, but he felt that they were so compatible that they could have a good life together even without love. He was so blind to his feelings that I really wanted to smack him a few times. I liked the way that he could be so lighthearted with her and the way they were able to laugh and have fun. Jen couldn't believe how intense her attraction to Marshall was. She was stunned when he proposed marriage to her. She was very conflicted because she could tell she was falling for him and didn't want a loveless marriage. But she also didn't like the idea of no longer having him in her life. Both of them ended up having to face their demons before they could find their happiness.