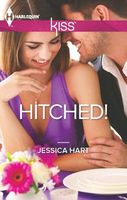 Planning the most talked about wedding of the year is enough to make engineer Frith Taylor break out in a cold sweat. She's used to construction sites, not wedding fairs! But estate manager George Challoner's offer of help is one that's too good to resist.

George may be the rebel of the prestigious Challoner family, but his insanely good looks are giving Frith wedding fever! Charm personified, he's making her feel things she hasn't dared feel before. Maybe her little sister's wedding won't be the only one Frith's planning…?
Good book. I really liked both Frith and George. Frith is an engineer working on a project in Yorkshire. She has a life plan for the next five years and no intention of straying from it. She is organized to an insane degree and as a result doesn't have much fun. George is the estate manager who is constantly in her way. He is interested in her but she rebuffs him constantly. When her sister shows up needing her help to plan her wedding George steps in to help.
Frith was an interesting character. She is a workaholic and something of a stick in the mud. She was so determined that she not end up like her mother she was rigidly stuck to following her plan. Every time George asked her out she shut him down. His constant cheerfulness and day to day attitude drove her nuts. When her celebrity sister shows up and talks Frith into helping plan her hen party George steps in to help. This creates a need for them to spend a lot of time together. Frith discovers that she enjoys spending time with George and there is definitely an attraction between them. Because of her lack of self esteem from comparing herself to her sister she doesn't think that George could be interested in her for long. So she keeps reminding herself and him that she will be leaving for an overseas job soon. Even when she realizes that she loves George she still sticks to her plan instead of seeing if there is a way for things to work out. I did like the way she stood up for him to his family.
George is great. He's cheerful, happy in his job and really good looking. He has made a new life for himself after breaking with his family over some ethical problems. I love the way that he keeps trying with Frith until he finally finds a way to spend more time with her. He is great at getting her to loosen up. He has a terrific attitude and I really like the way that he shows her you can work hard and still have fun. I loved the banter between them and his playing with her ringtones is so much fun. I also loved the way that he was there for her when she really needed him. I liked seeing how good he was with his nephews and got a chuckle when they were playing pooh sticks. I also liked the way he was there for his grandmother even though it was difficult being around his family.
I also liked the secondary characters of Saffron and Roly. Saffron was a great foil for Frith. Though she seemed pretty selfish and flighty at the beginning I did see some good changes in her. Roly was a nice guy and I thought he was pretty cool to help the way he did. I liked the way he helped Saffron at the end, though I did see it coming.
The only real problem I had with the book was that it was written in first person. This meant that I didn't get anything from George's perspective which I really missed. It doesn't seem like a complete story without it.