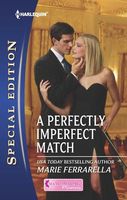 Series:
Matchmaking Mamas
(Book 9)
THE GAME OF LOVE -- IT HAS ITS RISKS. AND ITS REWARDS...

In one corner we have Jared Winterset, who's "not" in the market for a wife. He knows too well how few marriages succeed-and Jared hates failure. So he'll keep it light.

In the other corner there's Elizabeth Stephens, a self-sufficient violinist. She's lonely sometimes, but playing her music is more rewarding-and safer-than playing the field.

Then a certain someone calls in the Mamas, and-"ding "-Jared and Elizabeth are thrown together, planning a thirty-fifth wedding anniversary party. Soon the two are enjoying themselves "way" too much. "It won't last, " thinks Elizabeth. "It's fun, that's all, " thinks Jared. But they're about to learn that in a real love match, "both" players can win...
Good book. I really liked both Jared and Elizabeth. Elizabeth is a violinist who is very involved in her music. She is the oldest child of a single father who lost her mother when Elizabeth was only four. Because she saw how devastated he was at her mother's death, she has refused to allow herself to get emotionally close to anyone. Her father worries that she will be alone for the rest of her life and mentions his worry to one of his patients who just happens to be one of the Matchmaking Mamas. She steps in and engineers a meeting between Elizabeth and Jared, one of her clients for her catering business. Jared has seen how wonderful his parents' marriage is, but believes that it is a very rare occurrence so he doesn't let himself get invested in any relationship. He is bowled over by Elizabeth when he meets her. It isn't just her beauty that draws him but he enjoys her sense of humor also. As they spend time together working on his parents' anniversary party their feelings grow deeper although neither one will admit to it. I loved the way that each of them had a quiet sense of humor that allowed them to tease one another. I could see them just building on each other's quips. I also loved Jared's way of treating Elizabeth as if she were so important even from the beginning. Jared admitted his feelings to himself and was determined to Make Elizabeth see that they belonged together. She on the other hand was so afraid of being hurt by what might happen that she couldn't open herself up to the possibilities. I loved the ending and how romantic it was.