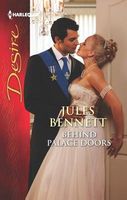 "I have a proposition for you."

Their marriage has all the makings of a great romantic movie: a beautiful Mediterranean setting, a handsome prince and fantastic sex. Too bad it's not real. When Prince Stefan Alexander weds Victoria Dane, the agreement between friends is supposed to be in name only to secure his crown. But it doesn't take long for buried passion to erupt....

Victoria gave up a lot for this seemingly fairy-tale life with Stefan, but all too soon she discovers she's fallen in love with the "Playboy Prince." Now Victoria must fight for what really matters. Because the one thing she can't give up is him.
Very good book. I really liked both Victoria and Stefan. They have been friends since they were teenagers. When Stefan found out that he had to be married in order to retain the crown for his small country he went to Victoria for help. They felt that they could handle six months of a marriage of convenience and still maintain their friendship.
Victoria was a really strong heroine. She had recently broken off her engagement to a man who had betrayed her on several levels. She was tired of being looked at with pity by people and treated as if she were going to break by her family. When Stefan called and asked her to come to Galini Isle she was happy to do so. She was stunned by his proposition and afraid that it would ruin their friendship if she went along with it. But she allowed herself to be convinced and said yes. She had always had a bit of a crush on Stefan and wondered what it would be like to kiss him. She was floored by the intense reaction when she did kiss him and soon their physical relationship had taken off. I loved the way that their close friendship and given them a degree of intimacy that you don't often see. It also didn't take long for Victoria to see that she had fallen in love with Stefan. She was sure he loved her too but just didn't know how to admit it and had decided to stay in the marriage. Then she found out he'd been keeping secrets and her feelings of betrayal went very deep.
Stefan was a pretty good hero. I liked the way that he had kept up his friendship with Victoria for so long. He had also been attracted to her for a long time but had never acted on it because the time had never seemed right. She was the first person he thought of when the marriage requirement came up because she was a friend. It didn't take long for him to convince her that they could handle the deception. I liked the way that he was so happy and relaxed with her. He knew that there was something different about their relationship after they took it up a notch, but he would never admit that it was love. He tried very hard to convince himself that it was still friendship with a side of lust. He had no familiarity with romantic love and wasn't able to recognize it. When his secrets came out he realized what he had done and had to try to figure out how to fix it and finally admit his feelings. I loved the way that he finally showed her how he felt.
I also liked seeing her brothers from the other books. The epilogue was great for seeing the final bit with the whole family together.