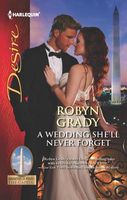 Series:
Daughters of Power: The Capital
(Book 3)
Remembrance of Things Passionate

She's been making the "right" decisions all her life. But after elite D.C. event planner Scarlet Anders meets self-made billionaire Daniel McNeal-a rowdy, sexy male who laughs in the face of society-she wishes she could make different choices.

Then she trips over a tangled wedding veil and everything changes. Because the resulting memory loss turns prim-and-proper Scarlet into carefree Scarlet. She jumps at Daniel's offer of a wild affair. Yet when her memory returns, she realizes she's in love with this man-but is he willing to give her a wedding of her own?
Very good book. I really liked both Daniel and Scarlet. Scarlet has been brought up to be very proper and attentive to the way her actions can affect other people. As a result, she's pretty uptight. When she meets Daniel she immediately notices the attraction between them. She is also very aware of his reputation and does not approve of his playboy ways. I loved the way that her memory loss allowed her to let go of her hangups and just go with her instincts. I loved her ability to have fun and loved her enthusiasm about all the things she was doing. I also loved the way that she was eventually able to confront her memories and make peace with some of the things she remembered. Daniel was a great foil for her. As uptight as she was, he was laid back and happy. I loved the way that he kept trying to do fun things for and with Scarlet. He was obviously very successful but had also discovered how to have some balance in his life. He also had his own issues with the past and dealt with them pretty much by ignoring them. His attitude was that the past was past and had no bearing on the present. He really liked Scarlet and kept picturing her being with him for a long time. But his way of dealing with the past and her way clashed and created its own set of problems. I loved the way that Daniel finally confronted his demons and the ending was terrific. I also enjoyed the parts dealing with the ongoing story of the leaks and hacking, and the relationship between Ariella and her friends. I'm looking forward to seeing more of this story come out and how it finally gets resolved.