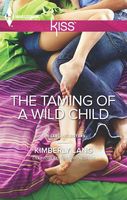 Series:
LaBlanc Sisters
(Book 2)
Waking up in a stranger's bed is not how socialite Lorelei LaBlanc planned on spending the morning after the night before.

From now on...

A) No more secret hookups with Donovan St. James-he's the last man on earth she'd want to share a room with, never mind a king-size bed.

B) Maintain a professional persona at all times. After all, he's a hard-hitting journalist who's always on the lookout for the latest scoop...and she's perfect tabloid fodder.

C) Keep friends close but enemies closer. Donovan may look like the ultimate poster boy but his intentions are anything but PG rated....
Very good book. I really liked both Lorelei and Donovan. The story starts as she wakes up in bed with him but can't remember how she got there or what they did. She just knows that it was a bad idea. They start out wanting to just pretend it never happened, but their attraction is too strong and they can't do it. So they start a very quiet, very private fling, keeping their relationship secret. They soon find that not only are they attracted they actually like each other and like spending time together. There are reasons they don't appear together in public and those reasons could tear them apart before they find a way to overcome them.
Lorelei is beginning to overcome her reputation as the wild LaBlanc sister. With Vivi (The Downfall of a Good Girl) off on her honeymoon, Lorelei is filling in for her at all of Vivi's social and charity obligations. She is working very hard to keep up appearances and the last thing she needs is to be caught in Donovan's bed. He didn't endear himself to New Orleans society when his investigation caused the ruin of two of the families of that society. So she tries to stay away but she wants that experience again so that she can remember it. It is just as explosive this time and they decide that they are just going to go with it. She wants to keep it quiet so they start sneaking around to have their fun. Lorelei worries about what will happen to her hard won improved reputation if they are discovered. I liked the way that she had decided that it was time she stopped trying to live down to her reputation, but the way she went about it wasn't the best. She had a rather snobby attitude toward him that didn't really mesh with the way she felt when she was with him. I loved the way that she really started to enjoy her activities and how good it was for her self esteem when people appreciated her efforts. I did not like the way she didn't stand up for herself against her mother's matchmaking efforts. She was horrified when she got caught with him by one of the society snots and the confrontation she had with Donovan later was not pretty. They both said some pretty horrible things to each other that brought out some of their deep seated issues. Lorelei had some pretty hard self examination to do, and I loved the way that she came out of it at the end.
Donovan had started life poor and until his father made a bunch of money had been on the outside looking in on New Orleans society. Even after the finances improved he still had a chip on his shoulder. He went into investigative journalism and made a name for himself when he exposed the corruption in two local society families. This made them dislike him even more but it didn't seem to bother him. He was surprised by his attraction to Lorelei, but enjoyed being with her. She had a sense of humor and wittiness that really appealed to him. He wasn't thrilled at the secretiveness of their relationship but since neither was looking for anything permanent he figured he could live with it. I really liked the way that he seemed to understand her and listened to her when she talked about her efforts to change. He was hurt by her attitude when they were seen by the daughter of one of the men he ruined and he turned that into anger when he confronted her later that day. He called her on her attitude but was surprised by some of the things she said back. It turned out that he too was guilty of some snobbery of his own. His actions at the end weren't the best but he was trying to salvage his pride. I really liked the way he came through in the end.
I really liked the message of being true to yourself rather than trying to live your life according to someone else's rules. Both Lorelei and Donovan had lessons to learn and the author showed those lessons in a very real way. I'm looking forward to reading more of her books.