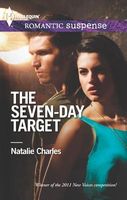 LOVE NEVER DIES, BUT CAN IT KILL?

He never meant to speak to her again. Back in Arbor Falls for a funeral, Special Agent Nick Foster has moved on. He has no plans to stay in his tiny hometown-or to reunite with the beautiful Libby Andrews. His onetime fiancée broke his heart, and what's past should stay buried.

Libby doesn't want his help. Her childhood sweetheart can never know the real reason she ended their engagement three years before. But when a serial killer targets her, she must team up with the rugged agent for her own safety. Something in her past has put her in danger, and the passion they've reignited puts their future in deadly jeopardy.
Good book with lots of suspense. I ended up liking both Nick and Libby, though I had problems with Libby at first. Nick has returned to his hometown to attend the funeral of Libby's father. He has no plans to see or speak to her. But when his former partner on the police force called to tell him that Libby is the target of a deadly stalker, Nick decides to stick around to protect her.
I preferred Nick to Libby. He came to town to pay his respects to Libby's father, even though they had never gotten along. Three years after their breakup he had started to understand that he had only been doing what he thought was best for his daughter. Even so, Libby had been rather mean in the breakup, so he doesn't understand his compulsion to protect her. I liked the way that he wanted to clear the air between them and even admitted to himself that their problems hadn't been all her fault. I enjoyed the way that they worked together to try to figure out who was trying to kill her. It gave them the opportunity to get to know each other as they are now.
Libby was really hard to like at the beginning. She appeared to be very judgmental and rather snobby. I didn't like the way she was so cold to Nick at their first meeting. Even when he and Dom explained the danger she was in she didn't want to believe it and resisted the idea that she needed protection. Even when she was convinced she tried to keep distance between her and Nick. We finally got so learn why she broke things off with Nick and that she still has feelings for him. I started to like her a little better after that but still feel like she wasn't giving him enough credit.
The suspense itself was excellent. It seemed that no matter what they did the stalker was one step ahead of them. There were a couple really interesting twists in this story that really kept me turning the pages. I thought I knew who did it, then something would happen to make me doubt it, then I was sure again. It definitely kept me turning the pages. I look forward to reading more from this new author.