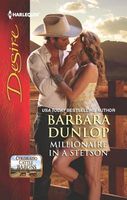 Series:
Colorado Cattle Barons
(Book 4)
Keep your secrets under lock and key

One woman has the power to destroy his family and Sawyer Layton is out to stop her. Even if it means the millionaire must don a Stetson and track Niki Gerard all the way to Colorado.

But he didn't count on the gorgeous Niki having trouble of her own. She's hiding out on her family's ranch, desperate to find her mother's scandalous diary-the same diary Sawyer's after. Worse still, she's quicker to the truth. Cover blown, there's only one option left: work with Niki-and try to keep his hands to himself.
Good book. Niki has recently lost her mother who was rather notorious for the men she slept with. She had also kept a diary naming names and recording secrets about them. Before she died she told Niki to keep it safe, that "they" would be after her for it, but she died before she could tell Niki where she had hidden it. Now she's hiding out with her recently discovered half brothers until she can figure out where the diary is.
I liked both Niki and Sawyer. Niki had a very unusual childhood because of her mother. By the time her mother died she knew what type of woman her mom had been and was very careful not to be like that. She didn't know about her brothers until after her mom's death and went to them when she felt the need to hide out. Because she didn't know them she started out by giving them a fake name. I liked the way that she soon felt guilty about that and told them the truth. When she met Sawyer she was still being cautious, but she was also really attracted to him. I liked her combination of innocent and worldly, as she was well-traveled but also hadn't done many adventurous things. Being with Sawyer gave her the courage to try some things she wouldn't have done before. When she found out he knew who she really was she felt hurt and betrayed. They were able to agree to cooperate to find the diary.
Sawyer is used to being the fix it man for his family, who appear to be a bunch of rich screwups. In this case his uncle is a senator who was one of Gabriella's lovers. He has secrets that would cause him major problems if they came out, so he sends Sawyer out to fix the problem. Sawyer buys a ranch near the one Niki is living on and gets to know her under an assumed name. He is expecting a conniving, manipulative woman and is confused when Niki is none of those things. He is also just as attracted to her but is trying to do the right thing and not get too deeply involved. It isn't working and he's starting to fall for her. When he blows his cover he has to do some fast talking to show Niki that she can trust him to help her.
I liked several things about this book. The romance between Niki and Sawyer was pretty sweet, despite the deceptions. The attraction was pretty steamy, but they also took the time to talk and get to know each other. I also really liked the sense of family. Even though they weren't the best people, it was obvious that Sawyer's family meant a lot to him. And though they had just met, Niki's acceptance by her brothers and their families was great. I really loved the way that they were there for her from the beginning, and their defense of her against Sawyer. I thought the solution that Sawyer and Niki came up with for the diary was terrific, and the epilogue was sweet.