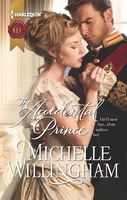 Series:
Accidental
(Book 4)
His runaway princess

Princess Serena of Badenstein intends to flee-from her violent father and from the man to whom she's been pledged in a political marriage of convenience.

Karl von Lohenberg is without a country, a title-and a bride if he lets Serena get away. A ruthless man, he takes her to a secluded island, hell-bent on seduction. Only, he discovers a broken woman behind the prim princess facade. The time they spend together mends her spirit and touches his soul, but how will she react when she finds out how he's deceived her?
Excellent book. Serena has suffered terrible abuse from her father for years. She is finally ready to get away from him and start a life of her own. She has also been engaged to Karl for years, but wants nothing to do with a marriage that puts her under the thumb of another man. She is dismayed to find her plans preempted by Karl who whisks her away to an isolated island to convince her to marry him immediately.
I really liked both Karl and Serena. Serena has amazing strength of will for someone who has been so badly abused. She has planned and plotted her escape, trying to think of everything that she would need to make a successful escape. All she wants is the ability to lead her own life. She is not at all happy when Karl intercepts her and takes her to the isolated island of Vertraumen. She tries to convince him to let her go, but he refuses. I loved the way that she tries her best not to show her fear and stands up for her own wishes. She is also amazingly resourceful as is shown in the wager she makes with Karl. Because of the abuse she has suffered she is very slow to trust anyone, especially a man, but she soon realizes that Karl will not hurt her. It also takes her awhile to realize that his touch doesn't make her afraid, but exactly the opposite. He makes her see that in order to be free she will have to confront her father. Karl wants to help with that, but once she realizes she loves him she wants to make sure he is safe and refuses his help. The conclusion had a very nice twist to it.
Karl has a problem. He has been disinherited and if he doesn't get Serena to marry him before she finds out he will have nothing. Having spent his whole life preparing to be a king, he is fully prepared to do whatever it takes to get his way. He doesn't expect to find Serena willing to do anything to give up her role as princess. He is also dismayed by the way that she cringes any time he gets close to her. This puts a real crimp in his plans to seduce her into marriage with him. I loved the way that she constantly surprised him with her adaptability - she wasn't anything like he had expected. I loved the way that he was so gentle with her and how he was able to build her trust in him. I also loved the way that he slowly got her used to the idea of being close physically. The chemistry between them built slowly but was very strong. He also learned that she had good ideas and instincts regarding people and being around her caused his way of looking at things to change. I loved the way that he wanted to protect her and gave her the strength to stand up for herself. The conclusion was very satisfying and I loved the way that things came together for Karl.