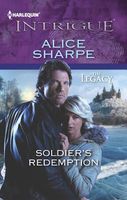 Series:
The Legacy
(Book 3)
KEEPING HER SAFE IS A MISSION HE WOULD NEVER REFUSE

For former Special Forces officer Cole Bennett, there's no room for error or emotions on his latest, all-too-personal mission. Hiding his identity and getting much too close to artist Skylar Pope is the only way to get some long-overdue justice. But keeping his simmering desire under control is one battle Cole would give anything to lose.

Suddenly Skylar discovers everything she believes in is a lie. And if finding the truth means confronting her family's and Cole's most wrenching secrets, she'll go as far as she has to. Yet the explosive chemistry between her and Cole is a temptation more dangerous than any betrayal. And putting herself in harm's way might be their only chance at a future.
Good book. I liked both Cole and Skylar. Cole had come to Kanistan to find the man responsible for the deaths of his parents and the kidnapping of him and his brothers. To do this he needs to get close to the man's niece, Skylar. He did not expect to meet her in the midst of an unexplained murder, but it gave him the opportunity to stay close to her. He was also surprised to find that he was so attracted to her that he was sometimes distracted from his purpose. I liked the way that he started to feel guilty about his deception and told Skylar everything. He knew he risked her not believing him but he couldn't stand not telling her.
Skylar was attracted to Cole from the beginning, when he first appeared at her aunt's gallery. When he helped her deal with the theft of the painting and the murder of her coworker, that just made him even more appealing to her. She sensed that there was something he was keeping from her so she tried to stay away from him. She was also warned off him by her uncle. He had always been kind to her though a bit overprotective so she tried to understand. When she went to Cole with some other questions and they did some investigating together she finally found out what he had been hiding from her. After her sense of loyalty to her uncle caused her to blow up at Cole and refuse to see him any longer she started thinking about the things he had told her. She felt she had to know for sure and started doing some more intense investigating which got her into some hot water. I liked the way that she went after the information she needed and then realized that Cole had been right. I really liked her faith that he would be able to rescue her at the end.
The suspense was good and the action scenes intense enough to keep me reading as fast as I could. I didn't care for the uncle's refusal to admit his wrongdoings even at the end. There was a pretty interesting twist there at the end that was a real surprise.