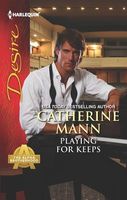 Series:
Alpha Brotherhood
(Book 3)
It's been eighteen years...and he still wants her

In high school, Malcolm Douglas was a bad boy who stole the heart of small-town girl Celia Patel-as well as her virginity. But life pulled them apart...and just as well, for he'd already broken her heart.

Now Malcolm is a world-famous billionaire dedicated to atoning for his sins. When he swoops back into Celia's life, he tells himself he only wants to protect her from recent threats. But the desire between them leaves them as breathless as teenagers. Will Celia ever forgive him? Maybe. If he can make today's pleasure erase yesterday's pain.
Very good book. I liked both Celia and Malcolm. When they were teenagers Celia was the daughter of a local judge and Malcolm was the boy from the wrong side of the tracks. But they were in love and that was all that mattered to them. When Celia got pregnant Malcolm started working any job he could find to earn enough money so they could get married. He ended up getting caught in a drug raid and even though he was innocent he was sent to a reform school. He and Celia ended up giving up the baby for adoption and they drifted apart. When she became the target of a stalker Malcolm used his connections and swooped in to protect her. They have a lot to overcome and none of it is easy.
Celia has been trying for eighteen years to get over Malcolm. After the birth of the baby she suffered from depression and panic attacks and has mostly recovered though she still has the occasional panic attack. When she is threatened she blows it off especially when Malcolm appears. She really doesn't want to risk her heart again. But he convinces her that coming along on his European tour is the perfect way to be protected. I really liked the way that she had gotten her life back together after making the incredibly hard decision to give up her baby. Her reaction to Malcolm's appearance showed her that she was still attracted to him and probably always would be. I really enjoyed seeing her get to know Malcolm the man and how he had changed from the boy she used to know. She discovered that she mostly liked him and really enjoyed meeting his friends. She didn't like his cynicism about the existence of love but she kind of understood his feelings. Her decision to give in to the physical wasn't easy but she didn't regret it. She was also finally able to let go of the guilt she felt over what she saw as her part in Malcolm being sent away.
Malcolm has spent his adult life performing his music and doing the occasional work for Colonel Salvatore and Interpol. He sees it as a way to make up for all the stupid things he did when he was younger. He has kept an eye on Celia from afar, wanting to make sure she is safe in a way he couldn't do when they were younger. He saw taking her on tour with him as a way to get her back in his bed and maybe get her out of his system, but it didn't work out that way. It seemed that everything he did just made him want her more and forever. I loved seeing the other members of the brotherhood come to help him and also the way they tried to make him see the truth about his feelings. I loved seeing the difference it made to his music when he did. The ending to the London concert was beautiful.
The resolution to Celia's stalker mystery was quite a surprise. I liked seeing the other brotherhood members and the wives from the first two books. It was fun seeing how their changes have continued after the end of those books. I'm looking forward to getting to know the other members and seeing how they meet their matches.