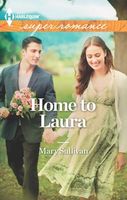 Coming back has just raised the stakes

A single encounter with the gorgeous Laura Cameron and Nick Jordan knows he has a lot to make up for. What he did to her years ago changed their lives dramatically. Unfortunately making amends isn't easy, especially when this sizzling attraction keeps interfering with his good intentions. He's torn between the strong urge to get out of the hometown he despises and exploring what could develop between them.

The longer Nick's in Colorado, though, the more he seems tied to this place. His daughter insists he reconcile with his estranged brothers. And the project that brought him here has hit a roadblock. But the one thing that could tip the scales in keeping him here? When Laura announces she's pregnant...with his child!
Good book. Nick doesn't want to come back to Colorado but he has a problem with one of his projects that he has to deal with. When he sees Laura again he is surprised by the strong attraction he feels. Laura is still furious with him over something that happened years ago, but the attraction is still there on her side also. When she ends up pregnant after a passion filled encounter they have to deal with issues they never expected.
I liked Laura. She had taken her small bakery and turned it into a successful bakery/cafe. She was physically recovered from a miscarriage, but her fiance just broke up with her because he decided he wasn't ready for children. She was unhappy because she really wants to have a family of her own. When she saw Nick again she let him know just how furious with him she still was. Shortly thereafter she also discovered that she was still attracted to him even though she didn't like him very much. When she discovered she was pregnant she was not sure how she felt. She was happy to be pregnant and wanted the baby very much, but she was not happy that Nick was the father. I liked the way that she insisted she would be fine on her own and didn't try to force him into a relationship. As she ran into problems and needed his help she saw another side of him that she did like. As time went on those feelings deepened, but she still tried to keep those feelings to herself. She had some issues to deal with, especially her betrayal of her first fiance who just happened to be Nick's brother Gabe. I loved her happiness at becoming a mother and her determination that she'd rather go it alone than have a marriage without love.
I had a harder time with Nick. I started out seeing him as a coldhearted workaholic who was more interested in making money than being with his daughter. I soon saw that he really did love her, he just didn't really know how to relate to her or tear himself away from his work the way she needed. I loved the fact that he took Emily with him when he went to Colorado. When the truth about his first encounter with Laura came out it made me dislike him again, and his attitude when he was going through his old home didn't help either. His selfishness was evident and even surprised his daughter. I liked the way that things she said made him think, and was glad when she orchestrated a meeting between him and his brothers. When Nick ended up being on his own for the night he found himself inviting Laura to dinner in hopes of making amends for his past actions. Then they ended up having sex and he made some pretty nasty accusations. I didn't like his attitude when she ended up pregnant and his insistence on having nothing to do with the child really grated on me. He was really obnoxious about it too. I did like the way he was there to help when she had problems. He was really very sweet and caring about it. It was funny the way he kept insisting he was just being a friend even when it was obvious he was falling for her. I liked the way that he slowly started reconciling with his brothers and seeing the town in a new light. I also liked the way that he dealt with the roadblock in his plans for the resort and how it showed another good side of him. I did love the way his eyes were opened at the end and have hope that he's turned the corner now from his obnoxious attitudes.
One of the things that bothered me was Nick's daughter Emily. I understand that she was finally getting the attention from her dad that that she needed. But I didn't like her attitude toward Laura and the baby and I really didn't like the way that Nick let her get away with it.