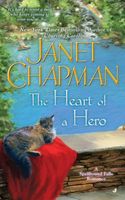 Series: Spellbound Falls (Book 4)
Originally from the ancient mythical island of Atlantis, Nicholas has spent the last year deep in the mountains of Maine, serving as Director of Security for the Nova Mare and Inglenook resorts. Fully embracing his life in the twenty-first century, he finds himself irresistibly drawn to a trouble-prone employee, and is determined to keep her safe.

The last thing Julia Campbell needs is a man with a hero complex, especially one as handsome and imposing as Nicholas. All she has to do is keep it together until her younger sister turns eighteen, and then she can focus on her own life. But strange things have been happening at the resort -- and it's Nicholas who keeps coming to her rescue. When Nicholas is suddenly the one in trouble, Julia realizes he's not quite what he seems -- and that she'll do anything to help the man who's stolen her heart…
Excellent book. I love Janet Chapman's books, her strong heroes and her spunk heroines. Nicholas and Julia are wonderful. Nicholas spent thirty years as bodyguard to Carolina Oceanus and now that she is to marry Alec he is free to pursue his own path. He has been the director of security for a year and has been thoroughly enjoying the life of a twenty-first century man. Nicholas is a little unusual for one of Janet's heroes. While he is definitely all man, he also has a sensitive side. During his travels through time he has rescued multiple cats who have the run of his home and his life. Now that he is free of his duty to Carolina he is ready to start looking for a wife and has pretty definite ideas of what he wants. He does not expect to be drawn to Julia who seems to be a magnet for trouble as well as being totally uninterested in any kind of relationship. I loved the way that he came to her rescue at the beginning and then tried to keep an eye on her. He also ended up helping her family. He was frustrated by the way she tried everything she could to avoid him. I loved his persistence and the way that he tried to be sensitive to her fears. I also loved the way that he used her thirst for knowledge to expose her to the truth about the magic. He had his own issues regarding his background to deal with and those nearly got him killed.
Julia was an independent Maine woman. She had been married before to a man who used her to get through school then divorced her when he was done with her. He then circulated nasty rumors about her to make it look like the divorce was her fault. She was living with her father, the town drunk, so that she could protect her siblings. All of these things contributed to her self esteem problems. She was very attracted to Nicholas, but ashamed that he had seen her at her worst and convinced that being with him in any way would be a bad thing for them both. She worked very hard to avoid him but Nicholas worked very hard to counter those efforts. The more she saw of him the more she was curious about him. Her curiosity led her to make discoveries that she was unwilling to accept at first but came to believe in. I loved the way that she became intent on being there for him. Except for a couple wild sex scenes, their romance was pretty sweet, with Nicholas determined to hang on until Julia was able to accept his love.
I loved the friendships in this whole series. Julia is able to survive many of her troubles because of the support of her friends Peg (Charmed by His Love) and Olivia (Spellbound Falls). I really loved the way Peg explained Nicholas's viewpoint and attitude to Julia. I also loved the confidence that Olivia had in Julia's abilities even though Julia was sure that she was in no way qualified to do it. Some of my favorite parts involved Nicholas's cats and the way they interacted with both Julia and Nicholas. The ending was a real jaw dropper and now I really can't wait for the next book to come out.