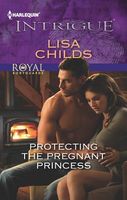 Series:
Royal Bodyguards
(Book 1)
A DOUBLE RESCUE MISSION

A princess and her doppelganger are missing, and a grief-stricken king turns to Aaron Timmer for answers. As a bodyguard to the king, Aaron's mission is clear when one of the women is found: keep her out of danger and find the abductor. But how can he do that when the mystery woman doesn't remember the events leading up to her disappearance?

Terror strikes a young woman when she wakes up in a private hospital with no idea who she is, how she came to be hospitalized...and whose baby she's carrying. But there is something about the man sent to protect her that makes her feel safe. As they seek the truth together-and the secrets of her past finally begin to resurface-they must prepare for the dangers that await them...and a desire that may be all too familiar.
Very good book. I really liked both Charlotte and Aaron. When Charlotte wakes up in a hospital she doesn't remember who she is or whose baby she is pregnant with. When Aaron shows up to rescue her she instinctively trusts him. She also has flashes of him in her memories. I really liked the way that even though she couldn't remember the details of her life she was determined to save herself. Because she and Aaron had a history together there were several places where each of them had to decide whether they could trust the other one. When her memories returned there were still secrets she was keeping from him that added to the trust issues. She also thought that even though she loved him that he loved someone else.
Aaron didn't know at first whether he was rescuing Charlotte or Gabriella but it didn't matter. His feelings told him it was Charlotte, but with her amnesia she couldn't remember any details of what had happened. He was stunned to find out she was pregnant and thrilled when he found out it was his baby. He also had many questions about what had happened when she and the princess disappeared. As much as he loved her there were secrets that came out that also made him wonder if he could trust her. There was also information that changed Aaron's relationship with his fellow bodyguard.
There was a lot of action in this book that kept me turning the pages. It seemed that every time something happened new information came out that changed someone's outlook. One part of the mystery got solved but there was also something else going on that still needs to be resolved.