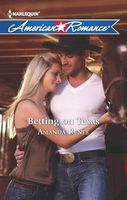 Series:
Ramblewood
(Book 1)
More Than The Ranch At Stake

When Miranda Archer bought Double Trouble Ranch, sight unseen, she was eager to leave city life behind and start fresh in the Texas Hill Country. But the property came with some unexpected extras: a few cattle, a couple of horses...and one surly cowboy.

From the minute Jesse Langtry first laid eyes on Miranda, she captured his heart. Beautiful and determined, Miranda is everything Jesse wants in a woman. There's just one little hitch. Jesse's dream girl just stole his ranch!

Sure that rural life will be too much for Miranda, Jesse bets her that she won't last a month at Double Trouble. If he wins, she'll sell him the land-if she wins, he'll leave for good. Pushing each other away seems to bring them closer-and that's where the real trouble begins!
Good book. I liked both Jesse and Miranda, though Jesse certainly didn't make a good first impression. Miranda had wanted to start a new life so when she came into some money she bought the Double Trouble Ranch. Her intention was to live there and open some type of shop in town. When she arrived on the ranch she didn't expect to find Jesse there taking care of horses and cattle that she hadn't known came with the ranch. She also didn't expect to get verbally attacked by him when he discovered she was the new owner. She also has a temper of her own and lets him have it right back. I loved the way that she was so determined to make a success of her new home. For all that she knew absolutely nothing about what needed to be done she stepped up to every challenge that Jesse laid down. When he proposes the bet for the ranch she takes him up on it, not realizing that it means they'll be spending more time together. Besides the antagonism there are also other sparks between them that become harder to ignore. She also gets to know Jesse and understand why he wants the ranch so much. Because of a bad past relationship Miranda has trust issues that then start to interfere with their growing feelings. I really liked the way that she became more a part of the town and let go of her "city ways". There were some fun scenes as she learned how to do things she had never done before.
Jesse's original attacks on Miranda seemed a little excessive at the beginning. I got that he was disappointed and even angry but some of the things he said were just plain mean. He knew he was in the wrong but he just couldn't seem to stop himself. It didn't help that he was also attracted to her. I loved the way that he kept giving her challenges that he expected her to fail and that she showed him up each time. Pretty soon he really started to admire her and her determination, but he still wanted his chance to get the ranch back. He first started thinking about marriage as a way to have both the ranch and Miranda but soon realized that the ranch would mean nothing to him if she wasn't there too. I did like the way that he had wanted to make his success on his own terms rather than just become part of his family's ranching business but his stubbornness had put him at odds with his family. This created an interesting twist at the end.
I really liked the people of Ramblewood and I hope that there will be more stories involving them.