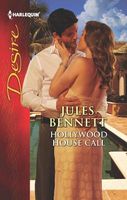 Calling L.A.'s most eligible M.D.!

Brilliant Hollywood cosmetic surgeon Noah Foster has perfection at his fingertips. Even so, he knows better than any man that losing someone you love comes at a cost. Which is why he can't walk away from Callie Matthews. When an accident shatters her dreams of stardom, he vows to heal her, inside and out.

Yet living in close quarters makes their red-hot attraction impossible to ignore. Being at Callie's bedside is one thing-and being in her bed is something Noah can't resist. He doesn't do commitment...but letting Callie go is impossible....
Very good book. Callie has come to Hollywood to be an actress, but while waiting for an acting job she is working as a receptionist for Noah. She is a cheerful person always having something good to say to people. She is attracted to Noah but is more interested in her acting career. He offers her a job doing the modelling for his new location's website and then she gets accepted for an acting job. Before that can happen she is hurt in an accident. Noah insists that he is the one to care for her and takes her to his home. Callie is uncomfortable at first as she doesn't like to think she is being a burden to Noah. She feels like his only reason is that he feels sorry for her and she doesn't like feeling like an object of pity, especially when she is still attracted to him. She seems to spend a lot of time at first feeling sorry for herself, that her dreams of becoming an actress are over now. While she did get a degree, she never made any kind of backup plans and now feels at a loss as she tries to figure out what to do with the rest of her life. Staying with Noah gave her the opportunity to know him better. She found a lot about him that she really liked and knew she could fall for him very easily, especially after he followed her to her parents' house and fit in so well with them. I loved the playful side that the two of them had together at the pizza place the night before her accident. She could also see that there was something in his past that was causing him to hold back from any commitment to her. She wanted to help him with that pain but he wouldn't let her get that close to him.
Noah is an excellent cosmetic surgeon. I liked the way that he is confident but not arrogant. I also liked the fact that he also did work on non celebrities that he wanted to help return to a normal life. He was attracted to Callie and they had just started to explore that attraction when she had her accident. He was certain enough of his abilities that he knew he was the only one who would be able to help her. He also wanted to protect her. He had been engaged to a woman who wanted to be an actress and when she got her dream she also became a drug addict who died from an overdose. He felt guilty about not being able to save her and that guilt has pretty much consumed his life. I liked the way that he insisted on being the one to care for Callie. He was understandably a little intense about the painkillers but he was wonderfully understanding with her and her fears. I loved the way that he kept telling her that she was more than just a pretty face. I also enjoyed seeing him show up at her parents' home and help out just because he could. It also gave him some insight into Callie and why she was so intense about her career. He was still attracted to her but was trying to keep things professional. He was still having trouble letting go of his past which made trying to have any kind of real relationship with Callie impossible. I loved seeing him finally realize that Callie meant more to him than hanging on to his past. I loved his silliness at the end and how much it meant to Callie.