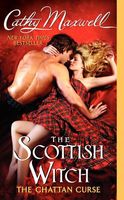 Series:
The Chattan Curse
(Book 2)
When a Chattan male falls in love, strike his heart with fire from above . . .

Portia Maclean believes she is beyond love and marriage. Then one moonlit night, while attempting a daring masquerade in a desperate bid to protect her family, she finds herself swept off her feet by a powerful stranger. But what will he do once he discovers she has betrayed him?

Harry Chattan is fighting for his family. For two hundred years the Chattan men have been destroyed by love . . . and now he's come to Scotland on the hunt for a witch to break the curse. Instead he finds himself bewitched by Portia. Harry has vowed to fight the demons that torture him.

But will that battle destroy her as well?
Good book. Harry has come to Scotland, where the curse began, in hopes of finding a way to break it. Now he is traveling all over the area looking for anyone who could be a witch. Portia and her mother and sister have come to live in Scotland to save money. Her father had left them destitute and reliant on the charity of family members. When she stumbles across what looks like a book of spells with the name Fenella in it, she decides to impersonate a witch and take some of Harry's money. This leads to them working together to find the answers Harry needs.
I liked both Harry and Portia. She is the practical backbone of the family. Her sister Minnie is beautiful and in love with the local doctor. Mom refuses to admit the dire straits they are in and is pushing Minnie to marry well, trying to drive away the doctor. One rainy day Portia discovers a book of recipes and spells and a small white cat. When she hears about Harry's search for a witch she decides to take advantage. When she meets Harry in her disguise she doesn't expect the zing of attraction. She also doesn't expect the impassioned plea for help from the arrogant Englishman. When he discovered who she was and confronted her, their passion overwhelmed them both and they began meeting secretly. I liked the way that Portia had put her family first for so long, but has come to realize that she wants something for herself too. She is sure this time with Harry won't end well but she's willing to risk it. I also like the way that she helps Harry even though she doesn't believe in witches and curses. As their affair heats up Portia discovers she's losing her heart to Harry, even though he has said he will not fall in love. I loved the way that she tried to protect him at the end.
Harry has changed a lot from the first book (Lyon's Bride). In that he was trying to fight his memories of the war with alcohol, opium and women. Now he has cleaned up his act and is determined to find a way to end the curse that is killing his brother. He has come to Glenfinnan in hopes of finding someone connected to the original Fenella who made the curse. When he receives a note from a "Fenella" who claims to be able to help him, he meets with her. He is desperate enough to beg for her help and agrees to meet with her the next night, but she doesn't show up. This infuriates him as he feels that she took advantage of his desperation and he tries to find her. When he does his anger turns to passion. He feels a connection to Portia that he has never felt with another woman, but because of the curse he refuses to allow himself to take a chance on love. I liked the way that they worked together to see what they could find out about the curse. I could see that Harry's connection to Portia was turning into love but he was still stubbornly denying it to her and himself. I loved the ending with his big declaration.
I also enjoyed the two secondary romances of Portia's mother and sister. Portia was furious at her mother's interference and I loved the pep talk that she gave to Minnie's suitor. Her mother was a real piece of work that I found to be terribly self-centered through most of the book. I loved the way that Portia finally stood up to her and told her off. I also liked Harry's part in the way that he encouraged the General in his pursuit of Portia's mother. The little white cat is an interesting twist. I have a suspicion about her place in the story so it will be interesting to see if I'm right.