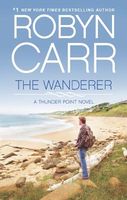 Series:
Thunder Point
(Book 1)
Nestled on the Oregon coast is a small town of rocky beaches and rugged charm. Locals love the land's unspoiled beauty. Developers see it as a potential gold mine. When newcomer Hank Cooper learns he's been left an old friend's entire beachfront property, he finds himself with a community's destiny in his hands.

Cooper has never been a man to settle in one place, and Thunder Point was supposed to be just another quick stop. But Cooper finds himself getting involved with the town. And with Sarah Dupre, a woman as complicated as she is beautiful.

With the whole town watching for his next move, Cooper has to choose between his old life and a place full of new possibilities. A place that just might be home.
Very good book and introduction to a brand new cast of characters. It starts with Cooper's arrival in Thunder Point and progresses through several chapters of getting to know the various people of the town. It's a close-knit community much like Virgin River with people you like and some you don't.
Cooper has come to Thunder Point because of the death of his Army buddy Ben. Once there he finds out that there may be some questions about Ben's death and also that he has inherited Ben's property. Since getting out of the army he has been a bit of a rolling stone, taking jobs for as long as they appeal and then moving on to another, living out of his trailer. Now that he is in Thunder Point he needs to make some decisions about the property. Cooper decides that until he feels like he knows what Ben would have wanted he'll stay around and fix it up. He is a bit of a loner thanks to his lifestyle but makes friends with the local deputy Mac pretty quickly. Through Mac he gets to know others and is soon pretty comfortable with his situation. He makes friends with teenager Landon, who he has rescued from a bully, and through Landon meets his sister Sarah. He is attracted to Sarah right away but makes it clear that he is not a commitment kind of guy. As the weeks go on Cooper finds himself getting more involved with the town and its people and doesn't experience the restlessness he usually does. I loved his final decision on the property and can't wait to see how it all works out.
Sarah moved to Thunder Point a few months ago with her 16 year old brother Landon after an unpleasant divorce. Because of her ex's cheating she is wary of trusting another man. She plans to concentrate on her job as a Coast Guard pilot and taking care of her brother. She is suspicious of Cooper and his friendship with Landon when they first meet but soon comes to trust him. I really liked Sarah's devotion to caring for her brother and what a good job she has done with him. Even in her developing relationship with Cooper she is very aware of the effect it could have on Landon.
I also enjoyed all the secondary stories in this book. Mac is the nice guy deputy who doesn't realize that his long time friendship with Gina has grown into something more until he is forced to look at his feelings. Sarah's brother Landon is the new kid in town who is making a splash on the football team and running afoul of the kid who thought he should be the star. Landon also discovers that the good guy can get the girl. I really liked the way that bullying was dealt with and the way it felt so real. I also loved Mac's Aunt Lou who provides her family with a surprise of her own.