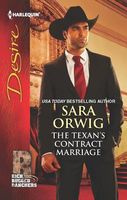 Series:
Rich Rugged Ranchers
(Book 5)
"Marry me...for the baby's sake."

With a fortune at his disposal, there is little Marek Rangel can't buy. Now, he has put a price on something priceless: his late brother's child. He will stop at nothing to ensure the baby's birthright...even if it means marrying a complete stranger.

A rising opera star, Camille Avanole relishes her independence, but she loves her child more. The billionaire rancher will give her son security and a chance to know his Texan heritage. So she agrees to Marek's demands, telling herself she won't fall in love-because if she does, he will only break her heart....
Good book with plenty of heat though not much in the way of conflict. Camille had spent a weekend with Marek's brother Kern and ended up pregnant. Kern was killed in an airplane crash right after Camille told him about the baby. Marek's fiancee was killed in the same crash. After the baby was born Camille went to Marek to tell him about the baby and let him know that she wanted Kern's family involved in Noah's life so that he would know that side of his heritage. She did not expect Marek to offer a marriage of convenience in order to give Noah a better life.
I really liked both Marek and Camille. I liked the way that Camille didn't try to hide Noah's existence or deny Marek and his family a chance to get to know him. She was a little worried that they would try to take Noah from her. When Marek offered her a marriage of convenience so that they could both spend the maximum amount of time with him she wasn't sure at first if it would be a good idea. She is attracted to him and doesn't want to take a chance on falling in love with him. She is just getting started in her career as an opera singer and doesn't want the distraction or the risk. But she knows the advantages that it will give to Noah so she says yes. As they spend time together, alone and with Noah, Camille finds her feelings for him growing stronger and soon realizes she has fallen in love with him anyway.
Marek is still grieving the loss of his fiancee and his brother. He says he will never love again as his love for her was too strong to ever want another or to want to risk that kind of pain again. When Camille comes to him about Noah he is leery at first but quickly realizes she is telling the truth. I love the way that he wants to be part of Noah's life but insists that he will not try to take him away from Camille. He tries very hard to find a way that will satisfy them both until he hits on the marriage idea. He is honest with her about his feelings that he will not love again, but that he would like them to be comfortable enough with each other to make the marriage a real one. I loved his immediate connection with Noah and how good he is with the little boy. His love for Noah starts to melt the ice that had wrapped around his heart. He also found himself think more and more about Camille and wanting to take their marriage to the next level. He also discovered that his grief was lessening and that he was actually happy more often. He attributed that to Camille and wanted her to cut back on her work to spend more time at home. Once he heard her sing he realized that he couldn't ask her to do that and made the decision to suck it up and take what he could get. I really liked the way that he appreciated her talent. He also finally accepted that he had fallen in love with her.
Both Marek and Camille wanted what was best for Noah and did an excellent job of working together to decide what that would be. They did well at making sure the other one knew what they wanted and expected. I also loved the ending and the way they came up with a solution that would make them all happy.