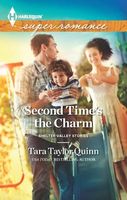 Series:
Shelter Valley Stories
(Book 14)
Can you ever escape your past?

Jon Swartz is an adult recipient -- the second one -- of a scholarship awarded by an anonymous donor. A single father, he comes to Shelter Valley, Arizona, to begin his life anew. He's a man with a secret past, a past he has to hide to protect both himself and his two-year-old son, Abe.

Lillie Henderson, a child life specialist, has her own history of loss and betrayal. She and Jon are brought together by Abe -- and by an attraction they can't deny. They have to decide not to let the emotions…and mistakes…of the past sabotage their hopes for the future. Abe's happiness depends on it. And so does theirs!
Good book. Jon and Lillie are both people who are hiding from their pasts. Jon has his scholarship to the university, but as a single father still needs to work to support his son. He has noticed lately that Abe is having tantrums at odd times, but puts it down to the terrible twos. Lillie's job is to help children through rough times and she offers Jon her help in finding out what is causing them. Jon isn't sure he can trust her but he wants her help. Lillie doesn't understand why she is so drawn to both but she is helpless to resist.
I loved the way that Jon was so focused on being the best possible father for Abe. He has full custody because Abe's mother didn't want to be a mom. Her mother had been making known her intentions of trying to take Abe away from Jon because of his past. This makes Jon somewhat paranoid about whether he is seen as a good father. When Abe starts having tantrums he accepts Lillie's help even though he fears she could be working against him. Beyond that fear is the attraction that he feels for Lillie even though he has no intention of getting involved in a relationship. The more time they spend together helping Abe the more that Jon finds Lillie taking up permanent residence in his heart. Jon knows he has to tell her his secret, but he is afraid that it will change the way she feels about him. I felt so bad for Jon. With his past he had never been exposed to love and he was hit hard by his feelings for Lillie. Then when his past came back to haunt him he wanted to protect her from it. I was so glad to see him finally accept that he was worth it.
Lillie is haunted by her past. Her ex-husband's infidelity and his callousness over the death of their son has caused her to close herself off from taking any more chances on love. She has thrown herself into her work with children and focuses all her passion on them. When she meets Abe there is something about him that causes her to be more involved with him. She is intent on helping him and goes all out to convince Jon. She doesn't expect attraction and does her best to fight it. Spending so much time with Jon as they work with Abe starts to crumble her walls but she is still afraid to take a chance. I loved the way she stood by him at the end and made sure that he believed in their future. I also found her interactions with her ex pretty interesting. Talking with him helped her deal with her own feelings without her falling for him again.