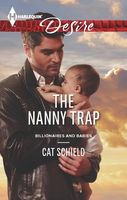 Series:
Billionaires and Babies
Billionaire Blake Ford has one summer to get what he wants. He trusted country-bred beauty Bella McAndrews as his surrogate. Now she's agreed to be his infant son's temporary nanny. It is only a matter of time before he convinces her to capitulate to his true desire: becoming his wife.

Blake believes his son deserves a mother's love. And Blake is determined to win this woman's love for himself, too…until a deep secret emerges, turning every truth upside down.
Good book. Blake has come to Bella for help. She was the surrogate who gave birth to his son. He and his wife have divorced and his nanny is recovering from a broken leg, so he has asked Bella to fill in as Drew's nanny. He also has the ulterior motive of wanting Bella to be his wife. The catch is that he has no intention of falling in love again, as the first time turned out so badly.
Bella came to New York to be a surrogate as a way to earn some money to help her family. She didn't expect it to be so hard to give the baby up. Now Blake wants her help for the summer to care for Drew. She is hesitant because she is afraid of how hard it will be to leave Drew again, and also because she had been attracted to Blake. He had been married so she kept it to herself. Now he is single again and she's worried about being alone with him. But she needs the money again, so she gives in. Bella is surprised when he makes no secret of his attraction to her but tries to resist. She doesn't want to get involved in anything long term. She is the oldest of eight children and spent most of her childhood and teen years helping her mom take care of them. She has no intention of having a family of her own while she is young enough to enjoy her freedom. I really understood Bella's feelings. She felt so overwhelmed and tied down by her responsibilities that when she had a chance to escape she took it. She couldn't cut herself off completely and her siblings were very good at tugging at her heartstrings when they asked for help. As Blake devoted more time to his pursuit of her she realized that she had fallen for him after all. Between that and her love for Drew her resistance to a relationship diminished. But there are still a couple things that could derail the happy ending that she wants.
Blake had wanted to be a father very much. When his wife didn't get pregnant they hired a surrogate to carry a baby for them, inviting her to their home during the end of the pregnancy. Blake found himself spending a lot of time with Bella who was very easy to be with. He never thought of her in a personal manner, but did want her to be involved in Drew's life. He was surprised when she walked away after Drew's birth. His own mother had left when he was eight and he didn't want any of the same issues he had to affect his son. This became even more important when his wife left him. He knows he wants to find a good mother for his son but he has no desire to fall in love again since he had been burned so badly by his first wife. When he needed a fill-in nanny he went to Bella to ask her to do it. He also was planning to talk her into marrying him and becoming Drew's mother. He didn't expect an immediate and strong attraction to her, though he certainly wasn't going to complain about it. He couldn't understand her resistance to the idea of spending more time with the baby. As he learned more about her life he understood a little better and began to see that she took care of everyone else but no one stepped up to take care of her. Blake found himself wanting to do more for her than just sleep with her. Blake is a man who doesn't give up when he wants something. After a couple revelations that made him realize just how much Bella meant to him he had to find a way to convince her before they could have the future they both wanted.