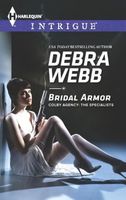 Series:
Colby Agency: The Specialists
(Book 1)
Someone was out to get Thomas Casey. His profession had taught him to trust no one. So when Johara di Rossi abducted him on his way to his beloved niece's wedding, Thomas assumed the worst -- despite their intimate history.

Though attachments made him vulnerable, Thomas was haunted by regret for walking away from Jo years ago. No other woman had stirred such intense desire in him. Now, snowbound in an isolated cabin, with a determined enemy from his past closing in, suspicion begins to melt away as the embers of their passion reignite.
Very good book with the action starting from the first page. Thomas is in Colorado to give away the bride at his niece's wedding. He is met at the airport by Johara, an agent he had worked with in the past. She basically abducts him, letting him know that he is under investigation for treason. The two of them have to put aside their pasts and work together to find out who is behind it and clear his name.
Thomas is the head of his division. He has put his second in command in charge so he can have a few days off for the wedding. He has no idea about the investigation when he is met by Johara. First she tells him that she needs his help and he goes with her. When his rental car explodes he begins to wonder if he can trust her. As she fills him in on the fact that he is being investigated for treason he realizes that she is his best chance to clear his name. He also discovers that his feelings for Jo are still strong. He had walked away from her five years earlier because he knew that anyone he was close to would be in danger because of his work. While that decision had felt right at the time, now he is wondering if it was. I loved the way that they worked together, but also had their disagreements. Thomas was certain that a couple of his coworkers were trustworthy while Jo wasn't so sure. Thomas also had to decide if he really trusted Jo or not. One of my favorite things about Thomas was his determination to make the wedding, but also his extreme nervousness about his role. He is such a calm and controlled man in everything else that I found his fears really adorable.
Jo volunteered for the assignment to watch Thomas and catch him in treasonous activities. She is certain that the suspicions are false and uses her assignment to steal him away and find out his side of the story. I love how organized she is and how she seemed to be able to anticipate all kinds of problems. She had loved him years ago and discovers that those feelings haven't died. She also realizes that until they solve their problem there is no way that Thomas is going to trust her enough to admit to any feelings he has. One of my favorite things about Jo is her kick butt attitude and her ability to handle just about anything she encounters.
I loved seeing so many previous characters as everyone gathered for the wedding. It was also great to see how they stepped up to find out what was going on with Thomas. I always love the low-key but intense way they approach things. While the immediate danger to Thomas is over, there is still the mystery of who is behind the attempt on his career and his life.