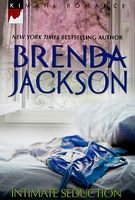 Series:
Steele Family
(Book 8)
When a man finds a beautiful woman asleep in his bed...

...he has only one choice. To seduce her with a night of lovemaking she'll never forget. Trouble is, Donovan Steele's sultry new housekeeper is just as determined not to become the legendary playboy's latest conquest.

Trading the Ivy League for down South, Natalie Ford is helping out with her ailing aunt's housecleaning service. But she finds that this powerful, potent man of Steele ignites a different kind of chemistry--one that defies every law of attraction the science professor ever learned.

Natalie knows she has to come clean to Donovan about who she really is...especially when he starts believing she's out to sabotage his family business. Will she lose her chance to love the real man behind the seductive legend?
Pretty good book. Natalie is in Charlotte to help out her aunt who broke her ankle. Fortunately it is summer break so she can take the time away from her job as a chemistry professor. When she meets Donovan the attraction between them is immediate and explosive. She doesn't intend to become another notch in his bedpost, and he won't give up until she gives in.
I liked Natalie. She is a brilliant woman who has earned the respect of her peers. She takes a break for the summer to help out her aunt. When she meets Donovan she lets him think that she's just a house cleaner. She had a problem in the past with a man who was so intimidated by her intelligence that he could only cope by putting her down. He did a real number on her self confidence, especially when it came to intimacy. At first she had no intention of giving in to Donovan's seduction attempts, but then decided to take advantage of their attraction for her own pleasure. I loved seeing the way that her confidence grew. I also enjoyed seeing her do things that brought her out of her academic shell. While I understood her need to keep her profession quiet, she waited a little too long to tell Donovan. Fortunately it all worked out for her.
Donovan was quite the footloose bachelor. He worked hard but he liked to play even harder. When he met Natalie he felt an strength of attraction he had never felt before. He was determined to have her, and when he did it was like nothing else before. I loved the way that he couldn't get her off his mind, even getting distracted at work. He also took her to family gatherings, something he'd never done before. He made a real idiot out of himself when he found her notebook and I loved watching him have to grovel.