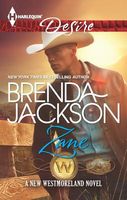 Series:
Westmorelands
(Book 25)
No woman walks away from Zane Westmoreland. But when Channing Hastings does just that, it leaves the rancher reeling -- and then she returns to town, engaged! Zane will do whatever it takes to show her that there is no man for her but him.
Good book. Zane and Channing had been together for nine months. He had made it clear at the beginning that he doesn't do commitments, he doesn't fall in love. Even though Channing felt there was more to what he felt for her, when he refused to consider a future she cut her losses and left him. Two years later she comes back wearing another man's ring. Even though he still is anti-commitment he doesn't want her with anyone else.
I liked Zane though he was certainly frustrating. He likes women - a lot. He has frequent relationships though they are all short and he makes sure that they know he doesn't "do" love. His time with Channing had been different. He still refuses to commit to a future but he found himself treating her differently than anyone else. He frequently reminded her that he doesn't fall in love and is stunned when she finally gives up on them and leaves. When she comes back he gets the brilliant idea of showing her that he's the only man for her but still insists on his unwillingness to love. This time when she leaves he finally starts to realize that maybe there's something to his feelings after all. It took a conversation with one of his brothers for him to realize that his refusal to love was a way to protect himself from a loss like the one when his parent and anunt and uncle died. I wanted to smack him when he got to Channing and announced that he loved her and expected everything to be okay. Really? After months of telling her he doesn't love she's supposed to believe he suddenly loves her? I'm so glad she didn't cave in. I loved watching him grovel and have to do things that showed how he had changed. I love the closeness of the Westmoreland family and how they support each other. I also loved the scene when Zane's sisters tore into him over the way he had treated Channing.
I really liked Channing. She was independent and knew what she wanted. She loved Zane and felt like he had feelings for her even though he was still insisting he doesn't. When she finally had enough she moved away. She had to come back for a seminar and pretended an engagement to try to protect herself. When Zane confronted her about it and insisted she was his but still wouldn't promise a future she fled again. She was stunned when he showed up and suddenly started claiming that he loved her. She figured he was just saying it because he still wanted her physically. I loved the fact that she didn't just accept his declaration. I liked the way she slowly began to accept that his love might be real as he opened up to her more about his life and his feelings. There was a brief relapse on her part but the ending was certainly dramatic.