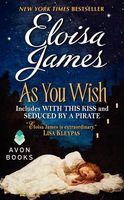 Series:
Happily Ever Afters
(Book 4.5)
Seduced by a Pirate
After years at sea, Sir Griffin Barry comes home to claim his wife. But is Phoebe his wife if their marriage was never consummated?

As an infamous pirate, Griffin claimed and kept gold and jewels . . . but this is one treasure that will not be so easy to capture.
We met Griffin in The Ugly Duchess when he returned to England with his cousin and fellow pirate. It's past time for him to return to the wife he left fourteen years ago after a disastrous wedding night. Phoebe has been quite content with her life and has no desire to add Griffin back into the mix.
I really liked both Griffin and Phoebe. Griffin has come back and knows he must reconnect with Phoebe and make his marriage real. He doesn't expect to be confronted with a woman who has three young children and every intention of dissolving their marriage. But Griffin is fascinated by her and attracted to her. He has no plan to let her go and every intention of seducing her to his way of thinking. I really liked the way he didn't get mad when he thought Phoebe had been with another man even though he did admit to some jealousy. I loved seeing how much he actually liked Phoebe as well as being attracted to her. I also loved seeing how much he liked the children and enjoyed being around them.
I loved Phoebe's independence. She had been married to Griffin because her merchant father wanted her to marry a title. When Griffin ran off on their wedding night she took the opportunity to live her life the way she wanted to. She wasn't interested in society doings and was quite happy at home. When the children came along she was even happier. She is not happy when Griffin returns to England and intends to ask him to dissolve the marriage. She is stunned when she sees him because he is nothing like the seventeen year old boy she married. She is confused by the feelings he stirs in her. I loved her independence and how she was quite happy to live life on her terms. I really enjoyed her reaction to the changes in Griffin's appearance. Seeing her try to deal with her feelings was fun to watch. I loved seeing her decide to go with it and see what happens. She ended up taming the pirate - but not too much.
With This Kiss
Lady Grace Ryburn is in love with a dashing young lieutenant, Colin Barry, but she turns away, thinking that Colin is in love with her sister.

Should Colin throw propriety to the wind, imitate his pirate father, and simply take what he most desires?
Good book. Colin, oldest of the Barry children from Seduced by a Pirate, finally got his wish and went to sea. While he is glad to be there parts of it aren't what he expected. He confides in his young friend Grace that hearing about the ordinary things from home helps him forget so she starts writing to him. Over the next several years she continues to write, even though he rarely answers. She sees him when he comes home on his rare visits, but they are still just friends. But as her feelings start to change she has to deal with the disapproval of her family and Colin's sudden interest in her younger sister.
I liked both Grace and Colin. As the oldest of her siblings, Grace is the responsible one who follows all the rules. When her family gets together with that of the Barry's on their yearly holiday she spends a little time with Colin who she notices is quieter than usual. She is pleased when he confides in her and offers to write to him while he is gone. Over the years she wishes he would write back more often but is happy he talks to her when he visits. Once she is older her parents decide it is no longer appropriate for her to write to him, so she must stop. About this time Colin sees Lily on one of his visits home and suddenly thinks he's in love with her. This breaks Grace's heart, but she isn't going to stand in the way of her sister's happiness. Eventually she succumbs to the courtship of another man, until Colin arrives back in England having been wounded. I really liked Grace's sensitivity to Colin's difficulties even as a child. She seemed to see more than anyone else did. Just as she was ready to confess her feelings to him, she saw his reaction to Lily. While I appreciated that her love for her sister made her withdraw, I wished she had been a bit more aggressive in making her feelings known. I really wanted to smack her for settling for someone else. I loved it when Colin came back and she threw all the rules out the window. She didn't care about his injuries she just wanted to be with the man she loved. I really loved seeing them get to know each other as adults.
I loved Colin from the time he was a kid. Once he was grown and had started his career in the navy he showed the effects of his upbringing. He was very good at what he did, but he doesn't enjoy the death and destruction. He can feel it eating away at his soul until he finds himself confiding in Grace. Something about her makes it easy to talk to her. Over the years her letters are a lifeline for him. He has sent an occasional brief responses but can never find the words to truly respond. He doesn't want to inflict the horrors he's seen on her. Back in England on leave he attends a ball hoping to see Grace, but is dazzled by Lily. He spends the next few days with her when possible and even asks her father for her hand. He is denied and heads back to sea. He comes to his senses and realizes it is Grace he really wants, but then is injured. He is discharged from the navy and sent home to recover. I loved seeing Colin's connection with Grace. It was obvious how much he cared for her, but because of the age difference he just didn't see it. I wanted to smack him when he got distracted by Lily. I was glad to see him come to his senses about her and realize that he loved Grace. After his injury he just wanted to go home and avoid everyone. I loved the way that Grace took charge of him. His dreams of her were very interesting and that last "dream" was especially vivid to him. I loved seeing him finally able to convince Grace that it was her that he really wanted.