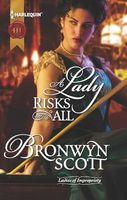 Series:
Ladies of Impropriety
(Book 1)
"Seducing the Captain"
It would be unwise to mistake me for an innocent debutante--for years I have graced the smoky gloom of many a billiards club and honed my skills at my father's side.
But now he has a new protege--Captain Greer Barrington--and while my father would see me attract the attentions of an eligible lord I, Mercedes Lockhart, have other ambitions.... Even if that means seducing the captain to earn back my father's favor. I know I must avoid falling for Greer's charming smile...but his sensual kisses could be worth the risk...
.
Good book, very different than the usual historical romance. Mercedes is the daughter of a billiards player. She has grown up learning to play and assisting her father with his activities. Because she is a woman she is not permitted to play in public though she would like nothing better. When her father takes on Greer as his protege - a spot she wanted - she is asked to help polish his skills. The more time they spend together the more their attraction grows and feelings start to develop. Mercedes is a very different heroine. She is skilled at a man's game and really wants to be able to compete with them. She has a dark past that causes her some trust issues when dealing with Greer. She is also very sensual and has no problem using that to get what she wants from Greer. She is also very intelligent and is able to use her skills and intelligence to further her own agenda while her father remains oblivious. She comes to love Greer very much but because of who she is she's certain that there is no chance of a future with him. I liked her courage in leaving her father and going with Greer, but I wish she had had a bit more gumption in standing up to his family.
Greer is a soldier who is trying to decide what to do with his future. He could go home and be the farm manager working for his brother who is their father's heir. But after seeing the world he knows that he would not be happy doing that. When Mercedes's father asks him to join them on a billiards tour and learn how to work the system, he goes along with it. He's looking forward to the adventure, but even more he's looking forward to spending more time with her. As a gentleman's son Greer has pretty strong moral values. He's not exactly comfortable with some of the schemes that his mentor runs, but he goes along with them. As he spends more time with Mercedes his feelings for her grow. He knows she is not the type of woman his family would approve of but he reaches the point where he just doesn't care. His biggest issue in getting Mercedes to consider a future with him is convincing her that he won't come to resent her. I liked Greer's care for Mercedes and how he really understood her. I did have a slight problem with the way he started compromising his values, but was glad to see him stand up to Mercedes's father at the end when he couldn't stand it any more. I loved seeing him stand up to his brother and tell him off. I also loved his support of Mercedes at the end and how he ended up happy with his choices.
Mercedes's father was well portrayed as the amoral conniver that he was. He was so focused on his own plans that he never saw what Mercedes was planning to do. I found his attitude toward her to be pretty bad. To have taught her so well then not allow her to use what she learned was not cool. I enjoyed seeing his shock when Greer and Mercedes walked away from him.