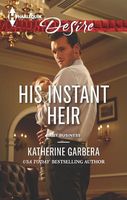 Series:
Baby Business
(Book 1)
Cari Chandler can't forget Declan Montrose. Their baby is a living reminder. The baby she hasn't told him about. The no-commitment billionaire-and her family's sworn enemy-walked out of her life the morning after. But now he's back...with a vengeance
Taking over her company is the last step to victory in their families' long feud. But Cari's more than collateral damage to Dec. He wants-needs-to seduce her again and again. Until he finds out she's hidden something more precious than her company. His son. And Dec intends to claim him...no matter the cost.
Good book. Declan's family business has finally succeeded in taking over Cari's family's company. They are determined to kick out the Chandler sisters and break up the company. Declan doesn't expect to still be attracted to Cari after their one night together eighteen months earlier, but decides that he may as well seduce her again. He's not a man who does long term relationships, but he can enjoy her for the six weeks it will take to finish the acquisition. He is stunned by her news that he's the father of her son and it changes the way he looks at things.
I liked both Dec and Cari. She and her sisters have been running their company and doing a pretty good job of it, but they were no match for the Montrose need for revenge. With their acquisition of the company Cari was going to have to deal with Dec on a daily basis as the businesses are merged. Cari knew she was going to have to tell Dec about DJ but she wasn't sure how he was going to take it. She felt guilty about not telling him sooner, but he had walked out the morning after without a word and had never contacted her again. She didn't expect him to care since he had made it clear that he was not interested in any kind of commitment. She was really surprised when he was happy about the baby and that he wanted to be involved as a father. He also insisted that they begin to date so that it wouldn't come as much as a surprise when they announced that he was DJ's father. Over the next six weeks Cari discovered that there was a lot to like about Dec and that she was coming to care for him. She also saw how much he loved DJ and how he wanted to be a better father than his own had been. She also thought that she was making a good case for keeping her company intact as she worked with her people to make the transition smooth. She was floored by his actions at the end of the six weeks and convinced that they had no chance of a future together. I really liked her strength and how she worked so hard to try to protect the people who worked for her. She was also a fantastic mom and wanted to do what was right for her son.
Declan was a man who was torn between loyalty to his family and his desire for Cari and their son. He was adopted and had never felt like he was truly part of the Montrose family. His parents had ended up not really giving him the love he deserved and had made him a pawn in their own relationship. As a result he kept away from any kind of commitment. That worked for everyone except Cari. He had never been able to forget their night together and was looking forward to trying to seduce her again. The news that he was a father caused him to feel a connection that he'd never experienced before - that there was someone else out there that was an actual relative to him. He made it clear to Cari that he would be an involved father and they would have to find a way to make it work. Though they weren't yet ready to tell their families about his identity as DJ's father, they were going to start dating and making it clear that they had a relationship. Dec's biggest problem was the fact that he could see what a big part of her business Cari was and that he didn't want her to lose her job, and that he knew that the intent was that she and her sisters would not be kept on. He wanted to do what was right for his company, thereby cementing his place in the family, but he also wanted to do what was right for Cari. In the end he made neither side happy and had to figure out how to fix it. I liked Declan's immediate acceptance of his fatherhood and the way that he wanted to be a good father. He worked really hard at it and found that his commitment to DJ also opened up his heart to let Cari in as well.