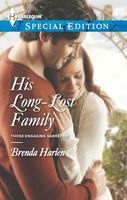 Series:
Those Engaging Garretts
(Book 2)
"You're a father." The very words struck terror in Jackson Garrett's soul. He had a daughter -- the result of the best weekend of his life thirteen years ago with the woman he never forgot. Kelly Cooper was the one he let get away…and now she was back.

Kelly only wanted her daughter to know Jackson -- she wasn't looking to rekindle their romance. But five minutes after landing in her hometown, she realized her mistake. Her first love was a girl's infatuation; now she knew a woman's desires -- and she desired Jackson. But could the confirmed bachelor give their daughter and Kelly what they'd always wanted: a family?
Very good book. Kelly had come back to Pinehurst so that her daughter could get to know her father - once he knew he was a father. She had been in love with Jackson since she was sixteen, but after that weekend together he got engaged to and then married another woman. She never told him about Ava, but she feels guilty about that now. She's concerned about his reaction because he had never made a secret about his lack of desire for kids. It doesn't take long for her to also realize that she still wants Jackson but doesn't know if she can trust him to stay around for them.
I liked both Kelly and Jackson. Both of them had made mistakes but they were trying to give Ava what she needs. By the time Kelly had realized she was pregnant, Jackson was engaged to another woman. He hadn't tried to contact her after their weekend, so heartbroken she decided not to tell him. She finally admits to herself that she misses her hometown and that Ava needs to know her father, so off they go. Telling Jackson isn't easy, especially when he doesn't believe her at first. By the time he is convinced he has also made it clear that he still wants Kelly, but she has no desire to be part of the parade. I liked Kelly but she definitely had a bit of a blind spot when it came to Jackson. It had been thirteen years since she had seen him but she couldn't see that he was different now. She also worried that he wouldn't be there for Ava the way she wanted, but was pleasantly surprised by how quickly he took to being a father. I loved seeing the way that her eyes were opened to the man that Jackson has become and how much harder it made it for her to try to resist him. I loved the scene where she found the woman in Jackson's apartment - it definitely showed where her heart really was.
Jackson was great. He had started noticing Kelly when she was sixteen, but knew better than to do anything about it. When they had their weekend together he could see her feelings in her eyes, but knew he was no good for her so he shut her out. His marriage had happened for business reasons and also because he was trying to forget Kelly. It didn't work. When she arrived back in Pinehurst he realized that the attraction had never gone away and he was determined to have her again. Then she hit him with his fatherhood and his knee jerk reaction was to deny it and make some unfounded accusations. Once he accepted the truth he was terrified. He had no idea how to be a father and was afraid of really messing things up. I loved seeing his first attempts and how nervous he was. It was great to see him gain confidence and even cope with a crisis or two. It also took him awhile to admit that he was in love with Kelly and had been for a long time. I liked the way that he realized that part of Kelly's issue with him was a fear of being left by someone else that she cared for and that he had the patience to wait it out. It was great to see how all three of them ended up getting what they wanted.