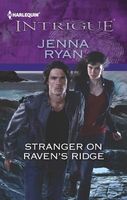 Series:
Raven's Cove
(Book 2)
LOCAL LEGEND SAID THAT SACRIFICE WAS THE TRUEST LOVE OF ALL...

Returning to her ancestral home, Raven Blume needed a new start. So she opened a medical clinic in order to escape the danger that had torn her life apart-and claimed her husband's life. But local legend spoke of a ghost, a reincarnated soul haunting her house, the one high up on Raven's Ridge....

Lurking within the mist was the man she thought dead. Aidan McInnis remained out of sight, venturing close enough to touch his Raven, but not daring to. The moment he did, he put a target on her back. Time was running out and Raven was quickly becoming familiar with danger. Aidan would die again if he had to-especially if it was the only way to protect her.
Very good book, action packed from the beginning. Two years after her husband's death, Raven is ready for a change. She plans to go home to Raven's Cove and open a much needed medical clinic. Once there she stumbles upon a man hiding in her family home and is stunned to discover that it is her "dead" husband. He had staged his death to protect her from the family of a man he had killed. Now it's a race against time to find the killer before they become the next victims.
I really liked both Aidan and Raven. Raven was doing her best to move on from Aidan's death, but she was still reeling two years later. To find out that he was still alive both thrilled her and really made her angry. She was furious that he had put her through that misery and wouldn't have told her if she hadn't shown up in Raven's Cove. Once she has recovered from the shock it's obvious that her love for him is just as strong as ever. I loved watching her work with Aidan as they tried to find Demars before they were found. She was not about to stay in the background and be protected, she was going to be part of the solution.
Aidan had staged his death to protect Raven when he discovered Demars's plan to kill her to make him suffer. Even though he wasn't with her he still managed to keep an eye on her though he wasn't expecting her to show up in Raven's Cove. Raven's finding out he was still alive put a large kink in his plans. I liked his protectiveness and completely understood why he did it. I did like the way that once he was found out he didn't try to weasel out of the consequences. I really enjoyed seeing him cope with Raven as she is now and how well they worked together.
I loved all the quirky characters there in Raven's Cove, from Raven's great-grandfather to the various attendees to Ravenspell. There were a lot of things to sort through to find out if they were related to the problem or not. There was quite an interesting twist at the end.