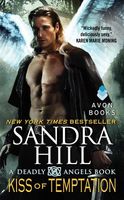 Series:
Deadly Angels
(Book 3)
IS IT LUST?

Ivak Sigurdsson is dead . . . well, sort of. Guilty of the sin of lust, he's been given an unusual penance: spend eternity as a Viking vampire angel, or vangel, fighting Lucipires, Satan's vampire demons on earth. Now sequestered in Angola Prison as a "spiritual adviser," Ivak is finding all these centuries of celibacy depressing, to say the least. But then, along comes southern belle Gabrielle Sonnier. Is she a reward for his good deeds, or a temptation sent to rattle his lustsome brain?

OR IS IT LOVE?

Gabrielle, a lawyer, begs Ivak to help get her brother out of prison. Aided by the Cajun LeDeux family and their chief looney bird, Tante Lulu, Ivak reluctantly agrees. And while he alternately tries to seduce and save Gabrielle before the Lucipires run rampant, they both begin to wonder if it's really only lust, or something more.
Fun book. Ivak is paying for his sins of lust. He has been assigned as a spiritual adviser at Angola Prison, surrounded by men with almost no women around. His job is to try to save as many sinners as he can to prevent the Lucipires from getting them. He has been working with one specific inmate for awhile when he meets the man's sister. Gabrielle has been trying to get her brother out of prison. On a visit to see him she meets the prison chaplain. There is an immediate spark between the two, but they both are fighting it. Gabrielle doesn't want anything to do with a man who is an obvious player. She doesn't understand her body's fascination with him and the intensity scares her. Meanwhile Ivak is equally attracted to her, but it is more than that. He knows he has seen his soul mate, but that means an end to his days as a player.
I really liked both characters. Gabrielle is working for a firm that helps people who have been wrongly convicted or whose sentences are excessive. It also gives her the chance to work on her brother's case. Meeting Ivak has really confused her. He says he is helping her brother also, but his story of being a Viking vampire angel makes him seem pretty weird in her book. She can't deny the effect he has on her body and soon he has her pretty convinced he's telling the truth. His Viking attitude toward women drives her nuts but she also feels safe when she's with him. She keeps trying to convince herself that it's all about the sex, but she's fighting a losing battle there.
Ivak is the typical vangel - good looking, strong, and with the Viking attitude toward women. He loves all women which is what got him into trouble in the first place. He immediately recognizes Gabrielle as his soulmate, but fights it hard since he knows that means he'll be "stuck" with one woman. I really loved seeing his Viking attitude run up against Gabrielle's modern woman ways. He is also working to help her brother and as they join forces their feelings for each other grow stronger. He finally gives in to the feelings but worries because he knows that nothing can come of it. They both have quite a surprise at the end.
Gabrielle is sent to talk to Tante Lulu for her help in Gabrielle's attempts to help her brother. Tante Lulu is a great believer in St Jude, patron saint of lost causes. She is also one crazy old lady, but also one that seems to know everyone who is anyone in the entire state. I loved seeing her work her wiles on everyone she came in contact with. One of the things that Ivak is involved in is having to run a prison talent show. Tante Lulu also gets her family involved in helping Ivak with this. Lulu also fancies herself as a matchmaker and is determined to get Gabrielle and Ivak together. Her actions and attitudes are hysterical in places. I've loved her in other books, and her antics are just as much fun here.
The vangels are continuing their battle against Jasper and his Lucipires. There is just enough exposure to him and his activities to keep up the tension without grossing me out with the details that were present in earlier books. It's always fun to see the vangels at work doing what they do best. I also enjoyed the appearances of Ivak's other brothers and seeing what they are up to. There are a couple of appearances by "Mike" aka Michael the archangel. His frustration with the vangels is always fun to see, along with the way that they do their best to make his life interesting. I really enjoyed his confusion over the surprise twist at the end of the book - not something that usually happens to him.
I'm really looking forward to the next book, and hope it doesn't take too long to come out!