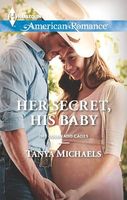 Series:
Colorado Cades
(Book 1)
Surprise! You're A Daddy!

Life's been full of surprises lately for rancher Garrett Frost -- and not in a good way. His mother has just dropped a bombshell about his past, so Garrett takes some time away to come to terms with family secrets. And who should he run into but Arden Cade, the beautiful photographer who shared a single night of passion with Garrett six months ago. He is even more shocked when he discovers she's pregnant -- and he's the daddy.

To make matters worse, Arden hadn't even planned on telling Garrett about the baby. Despite her lies, Garrett is determined to be a good father. He's not the type to cut and run, and he can't deny that he's falling for Arden all over again. But he'll have to find a way to forgive her betrayal…and make peace with that skeleton in the family closet.
Good book. Arden and Garrett had shared one fantastic night together and not seen each other for six months. When he did see her he was shocked to find out she was pregnant with his baby and hadn't intended to tell him. On top of problems at home this is one more feeling of betrayal and he's furious. He has no problem letting Arden know that he's going to be very involved. He doesn't expect to want to be involved with more than just the baby.
I liked both Arden and Garrett though both had their less likable moments. As a photographer Arden was working at a wedding that Garrett was attending. It was the anniversary of a major loss for her and she was feeling pretty low when Garrett approached her. He made her feel better and she ended up staying all night with him, but panicking and sneaking out in the morning. When she discovered she was pregnant, at first she was too sick to even think about contacting him. After that she started thinking up reasons not to tell him and never did - until she encountered him unexpectedly. She came clean with him but feels horribly guilty for not telling him when she sees what it means to him. Now she has to let him in but still try to protect herself. I sort of understood why she didn't tell Garrett but that still didn't make it right. She had had so much loss in her life that she was making the baby a way to deal with it and didn't really want to share. When Garrett confronted her I'm glad she told the truth and tried to make it up to him. She understood his anger but really began to hope that he could forgive her. I loved seeing her include him in everything from that point on and begin to get to know him. She was afraid of her growing feelings because she was certain it wouldn't last and didn't think she could handle another loss. I also loved seeing her deal with her two brothers. The scene where she told them about Garrett was fantastic especially when she lit into them for being so obnoxious.
When Garrett met Arden at the wedding he had been feeling a little out of sorts and envious of his friend. I loved how well they connected. Garrett was a little smug the next morning but he didn't really deserve to have her sneak out. Six months later he gets some unwelcome news from his mother which sends him off to stay with his friends for a few days. Seeing Arden and discovering that she's pregnant without telling him just put the icing on the cake of his crappy day. He's furious at what he sees as a betrayal by another woman and not too nice in his initial reaction. He calms down a little bit and lets Arden know that he intends to be very involved. I loved his reaction when she took him along to her doctor's appointment and how he began to soften just a little in his attitude. I enjoyed seeing him getting to know Arden better and how much he tried to protect her. I enjoyed how sweet he was with her once he got over the shock.