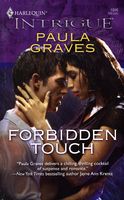 Series:
Browning Sisters
(Book 3)
ONE TOUCH WAS ALL IT TOOK FOR THE GORGEOUS STRANGER TO PENETRATE HIS SOUL.

He was a hardened former Marine with a guarded past...until one touch from Iris Browning became his undoing. Thanks to the raven-haired beauty, reclusive millionaire Maddox Heller found himself back in the line of fire, chasing down an elusive killer who'd made Iris his next target. She claimed not to know why, and every instinct told Maddox to believe her. Still, trusting this virtual stranger seemed risky, especially as their relationship grew increasingly personal. Now, as ghosts from the past threatened to destroy the present, would one forbidden touch bring pleasure...or pain?
Very good conclusion to the Browning Sisters trilogy. Iris has arrived on the island to meet a friend, only to find that the friend signed them up for a conference about paranormal abilities and is now missing. While searching for her friend Iris meets Maddox who calls himself a beach bum but seems to have appointed himself her protector. Someone is after Iris and she doesn't know why.
I really liked both Iris and Maddox. Iris is a healing empath who is suffering from a bit of burnout. Every time she takes on someone's pain it exhausts her and it is taking her longer to recover. She's hoping that some time away will give her a break. Discovering that her friend is missing just adds to her worries. She meets Maddox when she asks him if he's seen her friend. She moves on when he hasn't but he worries about the way she looks and follows just in time to catch her when she collapses. She hesitates to accept his offered help, especially when she senses a darkness from him, but she also feels she can trust him. As they work together their attraction only grows stronger. Iris begins to feel more of Maddox's emotional pain and wants to help him, but he resists. When she finds out what is going on at the conference she insists on helping feeling a need to do something to stop what is happening. I really liked her attitude of wanting to help even though Maddox was telling her to leave. She had an amazing amount of strength of will to be able to do what she does even though she is also afraid. I loved the way she brought people together at the end to save the day.
Maddox is still recovering from things that happened in his past. He has terribly guilty feelings which prevent him from letting anyone else depend on him. When he meets Iris there is something about her that he just can't stay away from. I loved the way that he used his connections to help her find out what happened to her friend. He was also there to help her when she was attacked and insisted on continuing to protect her. He doesn't understand the "hoodoo" that she does but can't deny that it exists. The more time he spends with Iris the more he comes to care for her, but he feels that the things in his past make it impossible for him to have any kind of relationship. When parts of that past show up on the island he has to face them to get the future that's waiting for him.