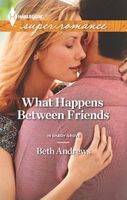 Series:
In Shady Grove
(Book 2)
Friends…with benefits?

For Sadie Nixon, life is one big adventure with something new around the corner. And anytime she needs a break, she can always rely on James Montesano -- the best guy she knows. This time when she arrives in Shady Grove, however, something is different. There's a little extra between her and James that has them crossing the line of friendship into one steamy, no-holds-barred night.

Afterward, no matter how hard she tries, Sadie can't erase the memories of James that way. He's so hot, so tempting…. But his life is here and hers isn't. She needs his friendship, but she doesn't do commitment. So where does that leave them? Suddenly what happens between friends is more complicated than ever!
Good book that was very emotional. Sadie is the proverbial rolling stone. She doesn't stay anywhere for very long. She had spent most of her childhood in Shady Grove, with James as her best friend. Even after she left she could always count on James to be there for her. When she came back this time something was different and she found herself not sure if she wanted to stay or go.
I loved James. He has always been Sadie's best friend, but lately he's had to admit that he wants more. When she comes back to Shady Grove he gives in to those feelings and kisses her. The result is an explosive night together that turns to ashes the next morning. He is stunned when she tells him that they should forget it happened, that it will ruin their friendship and he knows she doesn't do commitments anyway... He lets her know that just being friends isn't enough anymore and if that's not good for her then their friendship is done anyway. I really liked the fact that James finally took a chance and let Sadie know how he felt. His reaction was also completely understandable. He was protecting himself. Over the next few weeks he tried really hard to move on but his heart was still stuck on Sadie. There were several times when he just couldn't maintain his distance and let her get close again, only to wind up hurting again. The last time he finally laid it all out for her and told her what he really thought and what his dreams were. I ached for him but loved that he stood up for himself. His problems with Sadie also made him see that he was having some job dissatisfaction working for his dad and opened up about that, though perhaps not in the most constructive way.
I had a hard time with Sadie. Throughout the book she seemed to be incredibly selfish, only thinking about her own needs and not how her actions impacted others. I felt that she was something of a lost soul with James being the thing that made her world right again. This was the story of her journey to finding herself, but I had some trouble really connecting with her. When she returned to Shady Grove and was with James that first night I had high hopes that she was going to see what she had been missing. Instead, she threw James's love back in his face and wanted to pretend everything was the same as always. She expected that in spite of it all he would still be there to pick up the pieces whenever she screwed up her life again. It also bugged me that she had no problem going to stay with her mom even though she considered her to have settled for a boring life instead of the fun one they'd had when her dad had been alive. She was so judgmental that I really wanted someone to tell her what a witch she was being. There were a few pages later when I thought she was finally starting to get it, but then she went right back to her selfish actions again. She was self aware enough to realize that her lifestyle was her way of remembering her father but it took some straight talk from her mother to really open her eyes. She really felt battered at the end but it seems that's what it took to wake her up. She came around at the end (of course) and James seems to believe in her now.