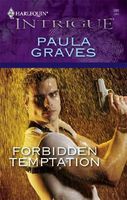 Series:
Browning Sisters
(Book 2)
Hot-shot criminal profiler Daniel Hartman was looking for a man called Orion. Leading a manhunt through Birmingham for the killer, Daniel was trying to put old ghosts to rest. But this time Orion's target was Rose Browning, a matchmaking wedding planner with a gift for predicting true love.
Tempted by secrets she couldn't reveal, Daniel insisted on offering some very personal protection. He would get her to open up, but at a price. Would he be able to safeguard this raven-haired beauty before his desires for revenge became an obsession?
Very good book. Rose moved to Birmingham to escape the memories in her hometown. For a long time her gift enabled her to match up soulmates. Then one of her best matches ended in tragedy and she lost confidence in her ability. Now instead of seeing love matches she's seeing death on young women's faces. When she takes it upon herself to try to find the killer she meets Daniel who is trying to do the same thing. He goes at it from a scientific and logical viewpoint and doesn't believe in her "death veils". But he also can't deny that there is something going on there.
I liked both Rose and Daniel. Rose is feeling lost without the ability she had for so long. Add in the fear that she is feeling after seeing the deaths of several women and she feels the need to try to find the killer. She meets Daniel when he is doing the same thing. She tries to explain what she sees but he doesn't believe her and wonders if she is mentally ill. In spite of his disbelief she feels safe when he is with her. Even through that disbelief she was attracted to him. That soon grew to be even stronger as they worked together to find the killer. Without her old ability to see the true love veils she wasn't sure she could trust what she felt. I liked the way that she tried several ways to get women she knew to be safe and wouldn't give up.
Daniel had been chasing this killer for thirteen years, ever since his fiancee was murdered. This is the closest he's ever gotten and he doesn't want anything messing it up. He thinks Rose is a pretty flake and doesn't believe her story about death veils. But the more time he spends with her the more he is drawn to her. When she becomes a target he is determined to keep her safe. I really enjoyed the way he checked into her past and how it led him to talk to McBride, her sister's husband (Forbidden Territory). I loved the conversation between those two. Daniel had a hard time believing in her abilities but he couldn't deny the feelings that were growing between them.
I had my suspicions about the killer, but there was a point where I began to doubt myself. There was an interesting twist concerning the killer that I hadn't expected. I did enjoy Daniel's moment of awakening and belief.