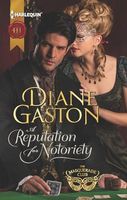 Series:
Masquerade Club
(Book 1)
Raising the stakes…

As the unacknowledged son of the lecherous Lord Westleigh, John "Rhys" Rhysdale was forced to earn a crust gambling on the streets. Now he owns the most thrilling new gaming establishment in London.

Witnessing polite society's debauchery and excess every night, Rhys prefers to live on its fringes, but a mysterious masked lady tempts him into the throng.

Lady Celia Gale, known only as Madame Fortune, matches Rhys card for card and kiss for stolen kiss. But the stakes are raised when Rhys discovers she's from the very world he despises.…
Good book. Rhys has been asked by his legitimate brothers to run a gaming hell in order for them to regain the money that their father has lost. He agrees on the condition that he has total control over the running of it. He has a scandalous reputation, mainly because of his birth. As a man he is honest and straightforward and determined to make a success of his life. When Celia appears at the hell, the masked woman draws Rhys's attention. He helps her get started playing the games and keeps an eye on her. As they spend time together on the nights she arrives their attraction grows and they begin an affair. There is a lot I liked about Rhys. He runs an honest establishment and doesn't tolerate bad behavior. He treats the women who work there and the ones who visit with respect. I also liked the way that he ended up building a better relationship with his brothers. His romance with Celia built slowly as they got to know each other. They had obstacles from their pasts that caused them some problems but I loved the fact that they were able to work through them in a believable way.
Celia had been married young to an older man who turned out to be a cruel man. He was also a gambler who ended up losing everything before he died. Now Celia is left to pick up the pieces and find a way to support them. Although she is very anti-gambler she is an excellent card player and decides to use that skill to get the money for them to live on. She is very nervous the first time she goes to the Masquerade Club but Rhys helps her get started. It doesn't take long before she earns a reputation for her skills. Her attraction to Rhys gives her the chance to experience passion in a way that had been missing in her marriage. Her feelings for him are growing when she discovers a connection to her past. This threatens to derail their romance.
There are some interesting connections between Rhys and Celia that have effects on the story. Rhys's father is the man who accused Celia's father of cheating and killed him in a duel. Celia's stepdaughter ends up falling in love with one of Rhys's brothers. Rhys's father's wife has information about the stepdaughter that changes her life. Rhys's best friend appears to have some kind of history with Rhys's half sister that may have bearing on the next book in the series.