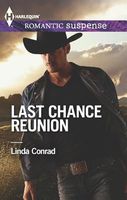 Series:
Chance Texas
(Book 4 & 5)
TEXAS COLD CASE
Determined to solve the cold case of his mother's murder, Colt Chance returns home to Texas. Turns out the new deputy sheriff is the woman who broke his heart. But when someone targets Lacie, Colt'll have to decide between the vengeance he seeks and protecting the one he still loves....
Excellent continuation of the Chance Texas series. Colt has come back to town to recover from being shot while on a sting. While he's there he decides it is time to look at his mother's murder and find out who really did it. Lacie has returned, also seeking answers of her own. They join forces as it becomes obvious that someone doesn't like what they're doing. Colt had left his hometown behind along with a bunch of bad memories. Lacie had been a good memory until she left town without a word. Now he discovers that he still cares, but has no desire to stay in Chance when everything is over. Lacie had lived in the city until she realized that she loved her hometown and came back to stay. Once they face down the danger and discover the truth behind the murder, they need to find a way to be together in order to have their happy future.
This was definitely a lot of action packed into a short amount of space. I loved seeing the way that Colt and Lacie were able to work together to solve the crime. Colt had his blind spot about the town and very nearly threw away his chance for happiness. Lacie wanted a life with Colt but wanted that life here at home.
TEXAS LOST AND FOUND
After witnessing a murder, firefighter Nina Martinez finds an ally in medic Josh White. On the run, they discover that Nina is the long-missing Chance sister, Cami. Will Cami embrace the love from Josh and her real family before it's too late?
Great conclusion to the series as the missing sister is finally found. Nina witnesses a murder right before being overcome by smoke. In order to protect her from those who want to silence her, Josh takes her on the run. Josh has always been attracted to her, but she keeps everyone at a distance. Nina has some bad memories of Texas. She knows she was illegally adopted and when those parents died the housekeeper to her away to protect her from being lost in the foster system. She was given a fake name and paperwork, but has always protected herself. Now she finds herself relying on Josh and getting close to him in ways she had never allowed before. I loved seeing her open up to the possibility of love. Josh knew he was in love with her, but when he discovered that she was the missing sister he didn't think that she would need or want him any longer. I loved seeing the way that she showed the newfound confidence to tell him what she felt. The solution that the brothers came up with at the end was great, though I expected it from something that was said at the end of the previous story.