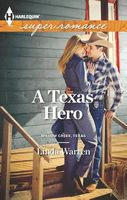 Series:
Willow Creek Texas
(Book 1)
Falling for her protector

For single mother Abby Bauman, a failed marriage and a troublesome ex are proof of love gone wrong. But once she's caught up in danger and saved -- twice -- by take-charge detective Ethan James, she considers whether falling for a true-blue hero is worth the risk. Even now, after the rescue, he seems bent on continuing to protect her and her daughter. Why?

There's more to Ethan's determination to stay close than he's telling her. But when she confronts him, he proves she's more than a means to solve a case. That tempts Abby to take a second chance on trust -- and love. Which might be the best choice she's ever made.
Very good book. Abby and Ethan meet when she causes him to rear-end her car. When they meet at the bank where she works to exchange information they end up in the middle of a bank robbery. They are taken hostage, then escape only to end up in the middle of a wildfire. All the danger they are going through causes them to form a strong bond, but neither is in a good place to start a relationship. They part ways only to be brought together again and again by Ethan's investigation of the robbery. There's something strange going on there and Ethan wants to get to the bottom of it.
I really liked both Abby and Ethan. Abby divorced her husband when she discovered he was cheating on her. She refuses to take any of his money but has no choice but to allow him visitation with their daughter Chloe. Doug has a bad habit of bailing out of his visitations putting more stress on Abby. On this day he had done the same thing causing Abby to run late for work. She notices Ethan's good looks and the zing she feels when she sees him but is in no mood to pursue it. When they end up taken hostage together she finds his calm, take charge manner both frustrating and reassuring. As they work together to escape the robbers and then the wildfire Abby finds herself more and more attracted to Ethan. He makes her feel things she had never felt before. He also does great things for the confidence that had been shredded by her ex-husband. After they are rescued she doesn't expect to see him again and is happy when she does. I loved the way that Ethan gave her the confidence to stand up to her ex, who is desperately trying to get Abby to come back to him and give him another chance. I really liked seeing how her time with Ethan gave her the confidence to mend her relationship with her stepmother and to stand up to her ex's manipulations. She confesses her love to Ethan but is hurt by what she sees as his putting his job before their love. She did a good amount of growing up in this book as she learned when to stand on her own and when to let someone help her. I loved the ending with the revelation of who was behind the robbery and why it was done.
Ethan is not having a good day. He was up all night working on a case and is late getting home to take his daughter riding. He wasn't happy about Abby's causing of the accident and is pretty rude to her because of it. When the robbery happens and they are taken hostage his cop training takes over and he takes charge of their safety. I loved seeing him fight the attraction while not being able to stay away. Even after their rescue he isn't able to get Abby out of his mind. Ethan is also trying to get to know his twelve year old daughter who he just got custody of. I loved seeing him try to cope with various issues. I also enjoyed his relationship with his dad, who is trying to follow Ethan's ban on cursing around Kelsey. His replacement words are really funny. As Ethan gets more involved with trying to solve the robbery he also gets in deeper with Abby. He is reluctant to pursue a relationship because he wants to concentrate on Kelsey but he can't help it. He is determined to solve the case of the robbery but also discovers that he is losing his objectivity as he gets more deeply involved in the case. I loved his persistence and the way he finally figured it out. Then all he has to do is find the courage to reach for a future with Abby.
The action in the book was intense from the beginning. Between the robbery and the fire I just couldn't read fast enough. I had my suspicions about the bad guy early on, but the motivation wasn't really clear until the end. I also enjoyed the secondary characters, from Kelsey's rebelliousness and turnaround to Ethan's dad's help with her. I also liked the story with Abby's stepmother and the way that Abby and Gayle finally began to relate. I'm also looking forward to the stories for Ethan's friends Carson and Levi.