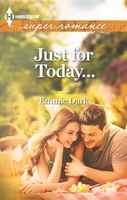 She's not that kind of girl!

Jess Alexander doesn't have one-night stands with the best man at a coworker's wedding. But thirty-five-year-old divorcée Jess is definitely in a rut that a night of reckless passion with a younger man just might break. And what better candidate than criminally good-looking Sean Paterson?

Being with Sean is exhilarating. And it's clear that just one night isn't nearly enough...for either of them. But where could this relationship possibly go? Expecting anything more than a good time from Sean is a one-way ticket to heartbreak. But despite her better judgment, Jess can't walk away from whatever this is...not yet.
Good book. Jess isn't really comfortable at her coworker's wedding. Most of the guests are a lot younger than she is and she feels out of place. Just as she is thinking of leaving she is approached by the best man, Sean, who flirts a bit with her. He is younger than she is, but she's ready to step outside her comfort zone a little. After being with him she freaks out a bit and leaves, expecting never to see him again. He ends up staying in town for awhile and really wants to get to know her better. Both of them have some issues to overcome before they can have a chance of being happy together.
I really liked both Jess and Sean. Both of them have some things going on that are holding them back. Jess is recently divorced from a husband who cheated on her and had a tendency to put her down. She's feeling rather lonely and knows that she really needs to move on. Meeting Sean puts a bit of zing into her life. She has some problems with the fact that he's seven years younger than she is but she finds that she really likes being with him. She sees a side of him that his family doesn't and it makes her feelings for him grow even more. She tends to keep a tight control on her life, but being with him has put some fun back into it. As she finally admits her feelings to herself she still can't help comparing him to her ex. She sees a man who puts his work and activities at the top of his priorities rather than his relationships and she doesn't want to be second best again. She is also afraid to risk her heart a second time and pushes him away. It takes a small dog to show her that she can trust again. I loved seeing her take the chance.
Sean is an interesting mix of contradictions. He has become a successful writer but is still looking for approval from his family. They look down on his work just not being willing to see how good he is at what he does. He travels around, never staying long in one place and not committing to any long term relationships. When he meets Jess there is something about her that really appeals to him. He doesn't care that she's older than he is he just wants to have fun with her. I really liked the way that he worked so hard to bring some fun into her life. The more time he spends with her the more he starts to think about changing his life. Being with her satisfies something inside him but he doesn't see that he's falling for her. I really loved seeing his carefree lifestyle with his traveling, his fans and the conventions juxtaposed with his obvious work ethic. He is very disciplined with his writing and treats his career with the respect it deserves. Because of his issues with his family he keeps himself apart from them at the same time that he yearns for their support. He loves the way that Jess supports him and is there for him. His strong feelings for her scare him and he isn't quite sure how to deal with it. He makes some pretty bad mistakes with her but a long conversation with his brother and sister-in-law opens his eyes to what he's been missing. I loved seeing the light go on in his brain as he realized just what he wanted.