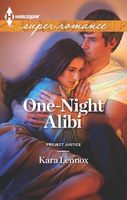 Series:
Project Justice
(Book 7)
Walking away is not an option

It was one night. And it might have stayed that way for Elizabeth Downey if her steamy evening with Hudson Vale hadn't been the same night her estranged father was murdered. Now she and Hudson -- a cop who had arrested her father -- are the prime suspects.

Forced to work together to clear their names, Elizabeth and Hudson must deal with their wildly different approaches. Worse, the simmering attraction between them won't go away. As they race to untangle a web of deceit, the stakes get higher. Because not only do their lives depend on finding the truth, but so does this passion that's turning into so much more....
Very good book. Liz had approached Hudson at a wedding they were both at, simply wanting a chance to talk to the man who had the courage to take on her father. She wasn't expecting the intense chemistry that gave them a steamy night together. Then her father is murdered and both she and Hudson are considered suspects. The only way to get out of it is to find out who really killed him. With the help of the people at Project Justice they set out to do just that.
I liked both Liz and Hudson. They have very different ways of looking at things but they end up working pretty well together. Liz had cut ties with her father when she was eighteen because he wouldn't stop interfering in her private life. He was so controlling that she couldn't even have a boyfriend. When she heard about Hudson's arrest of her father she was impressed that he hadn't caved in to the pressure and wanted a chance to talk to him. Her attraction to him was unexpected but she went with it, figuring it would be just one night, and she never told him her last name. When she discovers that they're both suspects in her father's murder all she can think of is to appeal to Project Justice for their help. For all that Liz is a talented social worker I thought she was kind of naive. She spends a lot of time coming down on Hudson because of his negativity but she has a hard time seeing the bad things that could happen to them. I did enjoy her strength in standing up to Hudson in order to protect her clients and how she did have something of an effect on his attitude. She knew that she was falling for him but she didn't trust that they had a chance of any kind of future because of how different they were. There were a couple times that she did some really stupid things but that was all part of her personality. I liked that she did finally see that there was room for hope for them.
Hudson has been a cop/detective for long enough that he mostly sees the down side of people and what they do. When he sees Liz's father trying to force money on and threatening a prostitute he places him under arrest. He then ends up suspended because of the accusations made by the powerful man. He's going a bit stir crazy when he attends the wedding where he meets Liz. Something feels off about their meeting but the attraction is enough that he ignores it. The next day he ends up a suspect in the murder and he has no idea who his alibi is. When he tracks her down and discovers that she's as much a suspect as he is he's not sure that he wasn't set up. As they decide that their only option is to clear themselves he has to decide whether to trust her. There were times I wanted to smack him for being such a downer but it certainly kept them out of trouble a few times. I enjoyed his partnership with Project Justice, especially as he had to reconcile his attitude toward them as a cop with his gratitude as a victim. He was certainly impressed with their resources. I really enjoyed the discussions he and Liz got into over their differing viewpoints. I also liked the way that he was so open to the idea of a future for them even with their differences and how frustrated he was with her certainty that it wasn't possible. It was his ability as a detective that came to her rescue at the end.
I loved seeing the Project Justice team at work again. It's always fun to see how they are able to push the boundaries and get the job done. I really enjoyed seeing Daniel and how much happier he is now. I'm looking forward to the next one in the series.