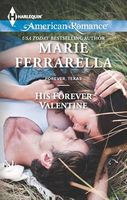 Series:
Forever Texas
(Book 7)
A Real Cowboy. A Real Home?

Rafe Rodriguez never reckoned on playing hero to a beautiful, big-city stranger. But when he saves Valentine Jones from a charging bull, this Rodriguez brother's fate is all but sealed. The Hollywood photographer is on location in Forever to scout out an authentic dude ranch. And nothing could feel more real -- or right -- than the fiery feelings Val's awakening in Rafe. And he knows just how their real-life romance should end!

Haunted by tragedy, Val knows life isn't like the movies. Still, a girl could get used to having a sexy protector like Rafe around. The Texas rancher is wreaking havoc with her credo of never settling in one place. Is Val headed for heartbreak again? Or has she finally found a place to belong with this cowboy who's starting to make her believe in forever?
Very good book. I love my visits to Forever. Rafe never expected to see a beautiful woman in one of his pastures, much less rescue her from a charging bull. Once he does, he is a goner. Everything about Val fascinates him. Val is intrigued by Rafe also, but holds out no hope for a happy ending. She tried that once and doesn't want to take that risk again.
I really liked both Val and Rafe. Val loves her job as a location scout. It keeps her busy and on the road enough that she isn't tempted into another relationship. When she finds the perfect location for her boss's next movie she also finds Rafe who makes her feel things she hasn't felt in a long time. Once the movie crew comes to town they end up spending a lot of time together and her feelings only grow stronger. I really liked Val's forthright attitude. She doesn't have the fakeness that so many Hollywood type do. She relates very well to the people of Forever. I loved seeing the way that she gets Miss Joan on the movie's side and how she gets along so well with Rafe's father. When her feelings for Rafe get to the point where she can no longer deny to herself that she loves him, she gets scared and retreats, fearing that she'd never survive losing him.
Rafe starts out the book admitting to himself that he is a little envious of his siblings' happiness. This leaves him open to the impact that Val has on him when he meets her. He is fascinated by the way she is able to make friends with everyone and how well she fits in with Forever. As the filming takes off Rafe gets to spend more time with Val and starts to dream of what it would be like if she stayed. But he has no reason to think that she would give up her fast paced and successful Hollywood life for one in Forever. I loved the way that Rafe was so drawn to Val from the beginning. He didn't fight his feelings and really wanted a future with her. He was stunned and hurt when she suddenly withdrew and wasn't sure what to do about it. I loved seeing even his family avoid him until Mike finally called him out on his attitude.
It's always fun to visit Forever and see the regular residents and what's happening with the previous couples. Miss Joan remains one of my favorites. I love the way that everyone looks to her for direction. It was fun watching her direct the chaos at the diner when the movie crew was in town.