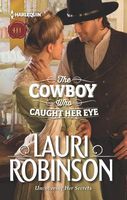 The Shopkeeper's Shame

Pregnant and unmarried, Molly Thorson knows her livelihood is under threat. The last thing she needs is a distracting cowboy swaggering into view. Especially one who knows she has a secret and still looks at her with desire in his eyes.

The Cowboy's Secret

Carter Buchanan knows all about secrets. It's his job to know. And Molly sure has something to hide. But the fear in her eyes touches a place he thought long-ago dead -- and now this cowboy can't help but consider exchanging his pistol for a band of gold.…
Carter has come to Huron in search of money stolen in a train robbery. As a Pinkerton man he is used to working undercover. When some of the stolen money turns up in Molly's store he wangles a job there so he can keep an eye on her and try to discover where the money is. He doesn't expect to be drawn to the prickly Molly. Meanwhile Molly is trying to keep her store running while trying to conceal her pregnancy from everyone. She doesn't want Carter with his all-seeing eyes involved in her business but she can't deny that he's making a difference.
I liked both Carter and Molly. Molly is really stressed because of trying to keep her business running. She got pregnant when she listened to a man's promises and then he ran off and left her in the lurch. She knows that when her pregnancy is revealed she is going to have problems with the people of the town judging her. She is worried that she'll lose the business and have no way to care for her two younger sisters. Carter's appearance worries her. She is drawn to him but afraid of risking herself again. She is also ashamed of what happened to her and sure that no decent man would want her now. Over the days that he is there, Carter slowly eases some of her stress and she begins to feel a little like her old self. She comes to care for him a lot, but his intention to move on to Montana makes her question the possibility of a future for them. I really liked Molly's determination to make a success of her business even against all the odds. She is understandably worried about repercussions but equally determined to give her baby the best life possible. I loved the sparks that flew between her and Carter.
Carter has been on his own for most of his life. Working for Pinkerton has given him a purpose for his life, though he is beginning to plan for life after Pinkerton. He is going to buy a ranch and enjoy a life of peace and quiet. Having no experience with love he doesn't plan to have a wife and family. For this job he goes undercover as a cowboy looking for a temporary job. He knows that some of the stolen money has shown up at Molly's store and he wants to find out if she was part of the robbery. Her prickly attitude amuses him. When he discovers her pregnancy he understands the fear that he has seen in her eyes. He doesn't expect to be so drawn to her that it begins to overshadow his search for the money and thief. I loved seeing his protectiveness toward Molly and her sisters. I also enjoyed his confusion because he didn't understand what was happening to him. I liked seeing the way he was with the various customers to the store and what a difference it made to Molly's business. I really enjoyed the ending to the story.