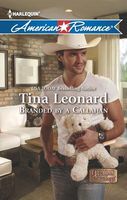 Series:
Callahan Cowboys
(Book 11)
"Settle Down, Cowboy "
Marriage isn't in Dante Callahan's short-term plans. But Ana St. John is. After the gorgeous nanny bodyguard--and woman of his fantasies--turns the tables and seduces him, Dante is suddenly corralling his inner wild man. Now Ana is having his baby...and refusing to say "I do "
There's no denying Ana's powerful feelings for Dante. But is the footloose rancher--and the hottest cowboy in New Mexico--ready to hang up his spurs for married life? According to the legend of the magic wedding dress, he's not.
Dante's not one to fool with family lore. But he's got to provide a major Cinderella moment to win over his prospective bride. He may be crazy for pulling out all the stops to get Ana to marry him--but that's part of the fun of being a Callahan.
Good book. Dante and his twin have been off doing the rodeo circuit, trying to forget their romantic woes. When Dante realizes that it isn't helping he decides to head home and try again to win Ana's affections. Marriage hasn't been in his plans but she sure is making him think in more permanent terms. Ana has been attracted to Dante since she met him, but as a children's bodyguard hired by his family she doesn't want to mix business with pleasure. Plus, she doesn't think he's ready to give up his footloose ways.
Dante is probably the most emotional of the siblings. He doesn't seem to have any trouble saying sweet things and doing nice things for the people he cares about. When she makes it plain that she wants him to make a baby with her he starts thinking that maybe there's more to his feelings for her than just attraction. But it seems that no matter what he does, something always interferes with his plans - interruptions by family, kidnapping by the bad guys, their own doubts. When he finds out she's pregnant he figures that's the perfect way to convince her and is surprised when she turns him down flat. He isn't one to believe in magic but even he is spooked when the magic wedding dress seems to indicate he isn't the one for her and then disappears right before his eyes. Now he has to figure out a way to convince Ana that he's serious. I really love Dante's sweetness. He really did have a great way of taking care of Fiona and he was great with all the little kids. His ego takes a bit of a hit when dealing with Ana and the fact that, as a bodyguard, she is well able to take care of herself and doesn't need his protection. He has to overcome his protective instincts and accept her need for independence in order to win her.
Ana has had strong feelings for Dante for months, but doesn't trust that he's ready for anything serious. But he does have all the qualities she's looking for in a father for the baby she wants. When she tries on the magic wedding dress she doesn't see him in the mirror and the dress transforms into something else, convincing her that Dante is all wrong for her. After a fantastic night together she heads home to decide what to do. When she discovers she's pregnant she knows she has to tell him, but keeps putting it off. I liked Ana's strength and independence. She is a very good bodyguard and has no plans to stop doing it. That independence tends to get in the way of her relationship with Dante. Her doubts about the possibility of a future with him mess with the magic of the dress. It will take both of them to be willing to take a risk in order for the dress to do its thing. I did enjoy seeing her stand up to him when she felt like he was forgetting her capabilities.