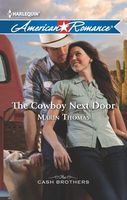 Series:
Cash Brothers
(Book 1)
"She Doesn't Need His Protection "Hard working cowboy Johnny Cash has always been a protector to his little sister's best friend, sweet but tough cowgirl Shannon Douglas. It's pretty crazy for girls to ride bulls--yet it's her life to live. Then he realizes he's got some purely male instincts toward her, too. But absolutely no way can he fall for his boss's daughter--if he loses his job, there'll be hell to pay at home....
Shannon was raised to be strong and independent. She wants a national title so bad she can taste it--and she needs Johnny's help. His protectiveness drives her crazy...the same way his kisses do. But she's not about to hang up her bull rope because of him Her heart says he's the one--but her own stubborn streak might push away the only man who might actually understand her.
Fun book.
Johnny has known Shannon for most of his life as his sister's best friend.
Now he's seeing her as a whole lot more and he's not real happy about it.
He's nine years older than she is which he thinks is too much.
She is also his boss's daughter, which can put his job in jeopardy.
As the oldest of seven children of a single mother, he's always been protective of his siblings.
He's been accused of acting more like a father than a brother.
As such he has a tendency to try to control everything around him and think that everything is up to him to fix.
Even now that everyone is an adult he tends to keep troubles to himself. He has spent so long caring for everyone else that he doesn't know how to let go.
It takes a near crisis for him to finally realize that he doesn't have to do it all alone.
Johnny's sudden fascination with Shannon has really got him freaked out.
He can't get her off his mind.
He also doesn't understand her bull-riding obsession, but he helps her anyway.
I loved the way that he finally admitted his feelings to himself.
I loved his support of Shannon and the way that he was there for her, especially after he finally understood her drive.
This said it all:
"Shannon was about to confront the biggest challenge of her life and she needed him – not to stop her, but to stand by her side and be there for her no matter what the outcome."
I've liked Shannon ever since she started appearing in the Rodeo Rebels series.
I especially like the way she emphasizes that women can do the same events as the men.
She was raised with her two brothers by her father after her mother abandoned them.
She's been attracted to Johnny for a long time but he doesn't see her that way until one night after a rodeo.
She takes advantage of that moment of weakness on his part and knocks his socks off.
Now she's dealing with an even stronger sense of protectiveness with him.
She is determined to win her championship and nothing is going to stop her.
No one seems to understand her drive to succeed at this event.
Eventually she was able to open up with Johnny and tell him "Rodeo gave me a focus
and helped me forget that my mother wanted nothing to do with me."
After she is injured she is even more determined to win that title, even though it means she has to also fight the fear that has come to haunt her dreams.
Even though his protectiveness drove her nuts she asked for his help to overcome her problems.
I loved the way that just his presence helped her overcome her fears at the end and how he gave her the confidence to look at the future she could have.