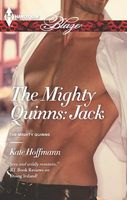 Series:
The Mighty Quinns
(Book 23)
A forbidden fling…

Jack Quinn has always been his widowed mother's fiercest protector. So, when his mom decides to reunite with her childhood sweetheart all the way out in California, there's no question -- Jack's going with her, and to hell with the consequences….

Mia McMahon isn't exactly thrilled about her wealthy father dating a woman from his past. She smells a gold digger. But once she meets Jack, she forgets all about getting his mother out of the picture -- and focuses on getting him into bed!

The attraction between Mia and Jack is intense, irresistible…and breaks every rule in the book. Then again, everyone knows that the most delicious affairs are the forbidden ones….
Good book, though not my favorite of the series. Jack's mom and Mia's dad had been friends as children. Both are alone now and have reconnected. When mom is invited out to California to visit there is no way that Jack is letting her go alone. When they arrive, Jack is immediately taken with Mia, who isn't too thrilled with her dad dating someone new. Mia is pretty quickly distracted by her attraction to Jack. As they spend time together their parents' romance starts to take on less importance.
I liked Jack a lot. He was protective of his mother having been the man of the house since he was nine. He goes along with his mom to make sure that she is safe. When he meets Mia the attraction is undeniable, but he isn't very happy with her accusations against his mother. Fortunately he is able to talk her down somewhat as they agree to keep an eye on the older couple. I liked the way that he is pretty good at making Mia see reason regarding their parents. Pretty soon he's much more interested in the relationship that is growing between him and Mia. I liked the fact that he seems much more open to the possibility of a real relationship between the two of them. He was willing to take his mom's advice and start thinking about his own wishes for a change. He also wasn't going to give up when Mia's insecurities would get the better of her.
I had a harder time liking Mia. She seemed far more interested in keeping her father to herself because she was still grieving for her mother than allowing him the chance to find a new happiness. I thought she was being terribly selfish. She admitted her attraction to Jack but again wasn't interested in falling in love, certain that it would end and she would get hurt. She was obviously trying to protect herself but it just rubbed me wrong. She and Jack decided to go for a no-strings fling and I got the feeling she was keeping one foot out the door for most of the time. She did start to relax some with him as they got to know each other. I liked some of the activities they did together that showed her what they had in common. It took awhile but I did like the way that she finally saw that her father would not forget her mother but that he deserved to find some happiness.