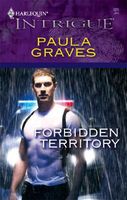 Series:
Browning Sisters
(Book 1)
WALKING AWAY WASN'T AN OPTION

"Help me!" For Lily Browning, there was no escaping the visions that had haunted her all her life. And now a little girl's desperate cry for help had brought enigmatic, disturbingly masculine Lieutenant McBride to her door....

McBride didn't have time for psychics. He had a kidnapper to catch. But the honey-haired woman with the golden eyes seemed to see things no one else could -- including his own tragic secret. With a child's life at stake, he had to trust Lily...even as each step plunged them deeper into danger and into the uncharted territory of irresistible desire....
Very good book that had me hooked from the first page. Lily has had visions all her life, usually of missing children. Now she's receiving cries for help from a little girl who has gone missing after her mother was murdered. One of the officers investigating is McBride. He has no trust in psychics having had a bad experience with one in his own tragic past. He can't deny that she seems to know things no one else does, but is she for real or is she part of the problem?
Lily hates the "gift" of having the visions that she does. All they seem to bring her is pain. But she can't walk away from the little girl she sees in her mind, even if that means dealing with Lieutenant McBride. She can sense a darkness and a lot of pain from him, but also a more personal connection. The chemistry between them is intense. As Lily's visions continue she feels that they are getting closer to finding Abby, but McBride is still fighting the idea that Lily sees what she say she sees. She is also confused by the presence of another little girl in her visions. I loved Lily's confidence in her visions and how she's determined to follow through on them. I also enjoyed the way that she stood up to McBride when she needed to. She had a great capacity for love which showed even as she used her visions to help both Abby and the other little girl Casey.
McBride is a rather bitter and pessimistic man. After his own daughter was kidnapped and never found he has lost himself in his work. His gut feeling on hearing of Abby's kidnapping is that she is already dead. I really ached for his unhappiness. His initial reaction to Lily was mistrust especially concerning her visions. He considers all psychics to be fakes out for money or attention. But things with Lily don't add up that way. Plus his attraction to her really confuses him. I loved seeing the way that Lily's confidence slowly works on his disbelief.
The intensity of this story was fantastic. The descriptions of Lily's visions made me feel like I was right there with her. There were places that I couldn't read fast enough to find out what was going to happen next. I loved the twist at the end with the second little girl.