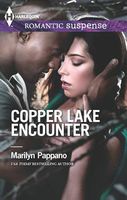 Series:
Copper Lake
(Book 4)
Nev Wilson believes in dreams -- because hers come true. Her latest nightmares are worrisome enough to draw her to Copper Lake, where a frightening truth awaits. Luckily, she's under the protection of hunky detective Ty Gadney.

As the only black cop in town, Ty has faced his share of hardship. When Nev needs his help untangling mysteries of her past, he discovers that hatred and fear are very much alive today. But as they work together, he feels he's met the woman of his dreams -- if her dreams don't get them both killed.
Very good book. Nev has been having frightening dreams that have led her to Copper Lake. Once there she isn't sure what to expect. She doesn't anticipate meeting the oh-so-attractive Ty Gadney, who comes to her aid. He is there for her when she is attacked. With his support Nev has the courage to look for the truth about her visions and her past.
I really liked both Nev and Ty. Nev had grown up in Atlanta and still lived with her grandmother, mother and sister. I really liked the way that she was so close to her grandmother even as her mother and sister were so cold to her. When she started having those frightening dreams it was her grandmother who helped her locate where they were taking place and encouraged her to go there. She didn't know what she was looking for but hoped to find out something that would help her. She was surprised by Ty's offer to help and his obvious interest in her. She had been put down by her sister and mother for so long that she didn't realize how beautiful she is. I loved the way that she was so kind to everyone she met and how much they liked her too. I especially liked the way that Ty's grandfather took to her. She was very cautious about revealing her dreams to him, being accustomed to people's disbelief, but eventually knew that she could trust him. I really loved her strength of self and character and the way she was able to pursue the truth of her past.
Ty was just plain wonderful all around. Being the only black cop in town he was used to facing difficulties. He noticed Nev right away and quickly realized that there was something about her that appealed to his heart and soul. I really loved the protectiveness that he showed to her from the very beginning. I also enjoyed seeing the way that he made her part of his life immediately, especially the way that he introduced her to his grandfather. He was a real sweetheart of a man and he treated her so well - something she really wasn't used to. He worried about the attacks on her and tried to find out who was behind it as they began to escalate. I loved the way that he accepted her abilities so easily. He also recognized quite early that she was the woman he had been waiting for and he had no trouble picturing a life together with her.
I enjoyed the suspense part of the book, even though it wasn't as intense as some others I have read. I figured out the secret of Nev's past pretty quickly, but the person behind the attacks came as a total surprise to me. I was also surprised by the reason behind it. I enjoyed the secondary characters, especially Ty's grandfather and Nev's grandmother. Both of them were lots of fun. I liked the part that Anamarie played and how much she helped Nev with the acceptance of her gift. I'd like to know more about what happens to Daisy and Dahlia and also Sophy.