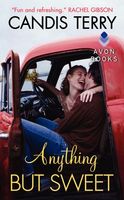 Series:
Sweet Texas
(Book 1)
HE'S STUBBORN AND THOROUGHLY MALE. . .

If Charlotte Brooks thinks she and her TV makeover show can turn Reno Wilder's hometown upside-down, he'll be happy to prove her wrong. The ex-Marine has seen too much turmoil and he likes Sweet, Texas, just the way it is. Traditional. Familiar. A little dull. Everything Charli isn't. But instead of backing off from his scowls like everyone else, Charli digs in her skyscraper heels.

SHE'S TENACIOUS AND WICKEDLY TEMPTING . . .

Reno Wilder is a one-man unwelcoming committee, but Charli isn't budging. It's clear the gorgeous cowboy needs an overhaul just as much as Sweet. Someone needs to break him out of that gruff shell and show him how fun and rewarding a little change can be.

They're about to find that love is anything but predictable.
I loved this book. I have a soft spot for small town stories anyway and this one was particularly good. Charli has come to town with her makeover show to help give some of the businesses a boost. One of the businesses she wants to do is Reno's hardware store and he wants absolutely nothing to do with it. He likes his store and his town just the way they are and he has no problem telling her so. But Charli isn't going to give up - on the town or on Reno.
I loved both Charli and Reno. Charli is the daughter of a military man. Her mom died when she was eight and her dad was never around. They constantly moved around and she was left with a longing to belong somewhere. She never expected to have a job that also kept her on the move. One of the things that she loves about her job is spending time in the small towns and getting to know the people there, even though it always hurts to leave. She liked Sweet as soon as she arrived and couldn't understand what Reno's problem was. She won't give in to his refusal to change and finds ways to get him involved even as he resists. The more she gets to know him the more she realizes that there is more behind his resistance than just grouchiness. She knows she is falling in love with him, but she too worries about the risk to her heart. One of the things I like best about Charli is the way that she is so upbeat about her work. She can see the best in almost anything she looks at. Her love for small towns shows in everything she does, from the changes she makes to the way she makes friends with so many different people. I especially loved the way that she bonded with Reno's mom.
Reno is content with his store and his town just the way they are. He doesn't need some big city woman coming in and changing things around. He's had all the upheaval in his life he can stand and wants nothing more than for Charli to pack up and leave town. He does his best to be uncooperative, but somehow she always seems to get her way. Pretty soon he finds himself enjoying their interactions and the sizzle between them really starts to take off. But Reno refuses to think of a future between them. He uses his refusal to change as a way to protect himself. He clings to the memories of his father, brother and fiancee, thinking that keeping everything the same is the way to honor their memories. I loved seeing the way that Charli starts to chip away at his walls. Sometimes he'll think that a future is possible, but mostly he thinks he doesn't deserve to be happy. I loved seeing him finally let go of his fears.
I also loved the secondary characters. No one was perfect and no one was all bad. Everyone had their own lives and issues both good and bad. I loved Reno's mom and the way that she kept her boys in line when she needed to. She seemed to have that southern velvet covered steel that got her just where she wanted to be. I'm really looking forward to the next one.