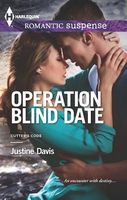 Series:
Cutter's Code
(Book 3)
"When a loved one goes missing...and no one believes you..."
Weeping in front of customers isn't Laney Adams's style. She would have gone unnoticed if security expert Teague Johnson hadn't come to her grooming shop to pick up his boss's dog, Cutter. Something about Teague--or maybe it's the uncannily perceptive canine--compels her to open up about her best friend who's gone missing and how she feels responsible. The confession reminds Teague of his own secret guilt. He can't turn away. With the help of the Foxworth Foundation--and Cutter--Laney and Teague launch a dangerous search that leads to unexpected twists...and undeniable passion.
Another very good book starring the incredible dog Cutter. Teague had gone to Laney's dog groomer shop to pick up Cutter. He noticed that she seemed upset but figured it wasn't any of his business. Cutter had different ideas. Teague is familiar with Cutter's ability to detect people who need Foxworth's help and managed to convince Laney to open up. She is worried about her best friend who she hasn't heard from in a month. The police have been no help so she is surprised when Teague accepts her worry and offers to help.
Laney is skeptical about Cutter's abilities but won't say no to Teague's help. I really loved her persistence in trying to find out what happened to her friend. She also wasn't about to sit back and wait for Teague to do all of the work - she was going to be involved every step of the way. She is feeling very guilty about introducing Amber to the man she thinks kidnapped her and beginning to not trust her judgment about men because of it. It doesn't take her long to realize that she can trust Teague. She also discovers that she is really attracted to Teague, but that he is fighting his attraction. I really liked the way that Laney seems to understand him so quickly. She gets his feelings and knows when to push for more and when to back off. She gets really frustrated with him when he pushes her away claiming that it's all reaction to the situation. I loved the culmination of the search and Laney's part in it. I also loved the final scene with Teague, Laney and Cutter and Cutter's part in bringing them together throughout the book.
Teague has been working for Foxworth for several years and has come to trust Cutter. He doesn't understand how the dog does what he does, but has learned to accept it. Cutter's insistence on helping Laney is unexpected but after hearing her story Teague is convinced that she is right to be worried. It also reminds him of the disappearance of his sister which contributes to his need to help. He feels an attraction to Laney immediately, but his sense of honor won't allow him to get involved with a client. I really liked the way that he appreciated her intelligence and sense of humor. I also loved the way that he told her about things that he didn't usually tell people, as if he knew that she was going to mean something special to him. He really fought his feelings, trying to convince himself that what she was feeling was simply reaction to the stress of the situation, but she wasn't going along with it. I liked the way that he accepted her need to be part of the search and that he was able to include her even when he was worried about her safety.
I enjoyed the suspense of the story even though it wasn't particularly intense or dangerous until the very end. It was far more about the friendship between Laney and Amber and how it caused Laney's concern over Amber's safety. It was also about the developing relationship between Teague and Laney and the trust between them. I love these Cutter stories and adore the dog. I would really like to see Rafe's story come soon.