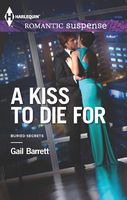 Series:
Buried Secrets
(Book 2)
Sullivan Turner doesn't see a hero when he looks in the mirror -- he sees only a hollow shell of the man he used to be. But redemption comes when he rescues a woman with a dark secret. Teenage-runaway-turned-social-worker Haley Barnes knows firsthand how savage Baltimore's streets can be.

Years ago, Haley witnessed an event that changed her life. Now, when the teenagers she guards are targeted, she seeks protection from a cynical army veteran. It isn't long before passions ignite between Haley and "Sully." Can he be the hero Haley needs, the hero who will protect her when a ruthless murderer comes calling?
Fantastic book that started out with a bang and just kept going. Haley runs a shelter for pregnant teens and while looking for one of them is targeted by a gang. Sully comes to their rescue and helps get the girls to safety, making himself a target also. When they discover that Haley is the subject of a gang hit Sully makes it his mission to protect her and discover who is behind it. He's not sure he's up to the task, but he's going to give it his best shot.
I really liked both Haley and Sully. Both had some serious issues that affect their ability to have relationships. I loved the way that they were portrayed realistically and not overcome easily. Haley had run away from home at the age of fifteen. Her parents were cold position conscious people who only cared for their "perfect" daughter, not the one who wasn't. When Haley got pregnant and wouldn't get rid of the baby like they wanted, she ran and lived on the streets with two friends she made there. The three of them witness a murder that has put them in danger. She is grateful for Sully's rescue of her and confident in his ability to help. She can see the pain he is feeling but has more confidence in him than he has in himself. She is also intensely attracted to him even though she knows there is no future for them. I loved the way her growing feelings for him make her all the more certain of how good he is in spite of his protests. Because of her own past issues she can't see herself deserving a future with him and pushes him away so he can have what she see as the life he deserves.
Sully is living with terrible guilt from his last tour in Afghanistan. He feels that he is responsible for the deaths of his men and best friend. Between that guilt and his PTSD he has become an alcoholic and loner. But he can't stand by and watch Haley and the teen get gunned down so he rushes to their rescue. He doesn't want to be responsible for Haley's safety but there isn't anyone else to trust so he takes her on the run. They soon decide the only way to stop the problem is to find out who is behind it. I loved seeing how well they worked together. Sully also tried fighting his attraction to her but it was a losing battle. One of the things I loved best about Sully was how he showed Haley how great he thought she was. He really fought against telling her about his past but couldn't resist the pull he felt toward her. I loved seeing how opening up to her brought him some of the peace he had been craving. Their trip to see his family was incredibly moving for me, even as it made me want to shake Haley. I was so glad to see them both come to some peace with their pasts.
The suspense portion of the story was great. It seemed at times as if they just couldn't get a break. Every time they thought they'd have a chance for a break the bad guys would catch up with them again. The power of the person behind it all was obvious as they got closer to finding out who it was. I made a couple guesses as to the culprit but the identity was revealed in an interesting twist. I really can't wait for the third book!