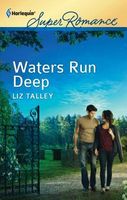 Series:
Boys of Bayou Bridge
(Book 1)
Getting attached to someone nearly sidelined agent Annie Perez's career. So she's not about to make the same mistake twice. This latest undercover assignment in Louisiana -- acting as nanny for a famous couple under threat -- suits her perfectly. She can investigate quietly and under the radar. That is, provided she can stay clear of way-too-suspicious detective Nate Dufrene.

Easier said than done when Nate seems to be around every corner. And with each encounter, Annie is tempted a little more by this son of Bayou Bridge. Yet regardless of their chemistry, they are worlds apart, and she's not willing to compromise for love again. But when she needs an ally, Nate has her back. And that could convince her to get very attached!
Good book. Annie is in Louisiana posing as a nanny to help protect a little boy. She is also investigating who is making the threats against the family. When the threats continue in Louisiana Nate gets involved. He's pretty sure she's hiding something but he's certain that she isn't involved in the threats. Neither one expects the intense attraction between them and Annie is especially wary. The more time they spend together the more each one starts to hope for a future together.
I liked both Annie and Nate. Annie was wary of getting attached to anyone. She had allowed herself to get close to a man and his daughter at a time she was vulnerable and it nearly ruined her career. Now she is trying to concentrate on her job and leave emotion out of it. She has been assigned to act as a nanny to five year old Spencer while she investigates who is making threats against him. She feels completely out of her depth while caring for him but she is doing the best she can. When Nate gets involved in the investigation she debates whether to tell him the truth about her status. As the investigation heats up, so does their attraction. I really loved seeing Annie with Spencer. She starts out really unsure of what she was doing with him and determined not to get too close to him. But the more she is with him the more comfortable she gets and the better she is able to deal with him. I really liked seeing the way that she really started to care about him. Her relationship with Nate was very interesting. Both of them pride themselves on their control but around each other that control disappears. They worked well together on the investigation but also had some control issues there as neither one really likes to play backup. I really liked the way that Annie came to love Louisiana and Bayou Bridge and dreamed of the possibility of staying there. I really enjoyed the way that she balanced head and heart at the end.
Nate was a driven man. Twenty five years earlier his little sister had been kidnapped and was believed to be dead. He felt responsible and has spent his free time as an adult working on solving cold cases as a way to deal with his guilt. He is attracted to Annie as soon as he meets her but is suspicious of her at first also. Once they start working together that attraction really takes off. Besides working on the case with Annie, there is also a new lead in his sister's disappearance. I really liked Nate's obvious love for his somewhat flaky mother. I also liked the way that Nate was so supportive of Annie in her role and nanny to Spencer. He did a great job of showing her that she was much better at it than she thought she was. I loved seeing the way that she worked her way under his barriers and he began to believe that it was possible for him to have a happy future for himself. His feelings for her became clear to him at the end with the discovery of the person making the threats. I loved seeing the way that he accepted Annie exactly the way she was.